Feedback : en studie kring feedback och dess inverkan på motivationen i sångundervisning
Wallin Flottorp, Emma (2018)
---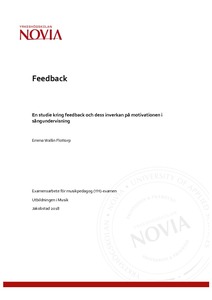 Yrkeshögskolan Novia
2018
All rights reserved
Julkaisun pysyvä osoite on
http://urn.fi/URN:NBN:fi:amk-201804265608
Tiivistelmä
Syftet med detta arbete är att utveckla förståelsen för feedback och dess inverkan på motivationen i sångundervisningssituationer, så att metoder kan förbättras och kunskapen blir bredare för att ge god feedback. Forskningsfrågorna i arbetet är: Vad är feedback? Hur kan feedback upplevas av sångelever på musikinstitutsnivå? Hur kan jag som sånglärare ge den bästa möjliga feedbacken till mina elever? För att besvara mina forskningsfrågor använder jag mig av hermeneutisk forskningsansats, intervjuer av fyra sångelever på musikinstitutsnivå och litteraturstudier.
Det kan konstateras att intervjusvaren tyder på att beröm, uppmuntran och positiva ord är en stark drivkraft till motivation. Även tydlig feedback som tyder på vad som behövs för att förbättras som sångare, är en nyckel till motivation hos respondenterna. Intervjusvaren visar att ingen av respondenterna vill vara utan feedback eftersom det är svårt att veta vad som måste förbättras och vad som redan görs bra utan feedback i sångundervisningen. De föredrar beröm, men vill även veta vad de behöver jobba på. Det som känns extra bra visar i denna forskning vara mycket prestationsrelaterad till lärarens feedback. Stor del av teorin blir bekräftad genom denna begränsade empiriska forskning.
The aim of this thesis is to develop understanding of feedback and its impact on motivation in vocational education situations, so that methods can be improved and knowledge grows to provide good feedback. The research questions of this thesis are: What is feedback? How can feedback be experienced by vocal students at a institute of music? How can I, as a singing teacher, provide the best possible feedback to my students? To answer my research questions, I use hermeneutic research, interviews of four vocal students at a music institute and literature studies.
It can be seen that the answers from the interview indicate that praising, encouragement and positive words are strong driving force for motivation. Even clear feedback suggesting what is needed to improve as a singer is a key to motivation among respondents. The answers from the interview show that none of the respondents want to be without feedback in their singing lessons because it is difficult to know what needs to be improved and what is already done well without feedback in the lessons. They prefer praise, but also want to know what needs a job base. Feedback that feels extraordinary shows in this research a very preform related effort to what the teacher's statements are. A large part of the theory is confirmed by this limited empirical research.
Kokoelmat