Thin-Section Microtomy of Polymers for Microscopic Analysis
Blåfield, Petrik (2018)
---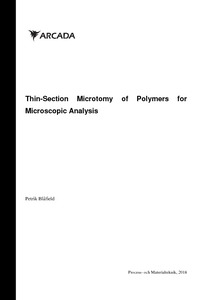 Yrkeshögskolan Arcada
2018
All rights reserved
Julkaisun pysyvä osoite on
http://urn.fi/URN:NBN:fi:amk-201805147888
Tiivistelmä
The aim of this thesis is to produce a method of obtaining thin sections of polymers for Arcada.
A thin section is a 10-40 μm thick piece of material cut from a sample. The cross-section is used in failure, material and compositional analysis. The samples are analyzed using an Optical microscope.
There are different methods of creating thin sections, and this thesis concentrates on cre-ating them using a microtome machine. A microtome machine uses a glass or hard steel blade to cut the thin section from a sample mounted in to sample holder. Microtomes can also be used to study geological and biological samples, but the microtome fabricated for the thesis, is used only for polymeric materials.
The microtomy process is straight forward, and after the sample is cut it can be mounted on to a microscope slide instantly, and then the sample is ready to be analyzed with an optical microscope.
For this thesis, two different microtomes were produced. The pilot microtome is a simple hand operated microtome with a polyoxymethylene with a high-speed steel blade. After testing, the microtome evolved to a machine with a pneumatic actuator for added stability and precision.
The microtomy method is compared to polishing, which is another method of producing thin sections.
Syftet med detta examensarbete är att göra en metod för yrkeshögskolan Arcada att producera tunna tvärsnnitt av formsprutade samt 3D-printade delar. Ett tunt tvärsnitt är en 10-40 μm tjock bit av ett material. Tvärsnittet används i fel, material samt komposit-ion analys. Ett optiskt mikroskop används för att analysera tunna tvärsnitten.
Medan det finns några olika metoder för att skapa tunna tvärsnitt, så koncentrerar detta examensarbete på att skapa dem med en mikrotom maskin. En mikrotom maskin skär med en kniv en tunn sektion av material från en prov bit. Medan mikrotomer också an-vänds för att skära tvärsnitt att biologiska och geologiska prov bitar, så används den producerade mikrotomen bara för olika polymer material.
Mikrotomi prosessen är relativt simpel. En provbit som kan vara av olika storlekar, blir fastsatt i provbitshållaren. Sedan skärs tvärsnittet loss med mikrotom kniven, som kan vara av olika material, men oftast av glas eller stål. Efter att tunna tvärsnittet är skuret, är den klar att läggas på ett mikroskop glas och sedan kan den analyseras med ett mikro-skop.
För detta examensarbete, producerades två olika mikrotomer. En simpel handmanövre-rad, som består av ett POM handtag, och ett höghastighetsstål blad. Andra mikrotomen som producerades använde samma stålbad, men skärande styrdes av en pneumatisk mo-tor.
I detta examensarbete, jämförs mikrotomi också mot polering, som är en annan metod att producera tunna tvärsnitt.
Kokoelmat