Review of heating systems of a single-family house
Räsänen, Katja (2018)
---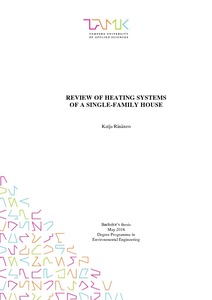 Tampereen ammattikorkeakoulu
2018
All rights reserved
Julkaisun pysyvä osoite on
http://urn.fi/URN:NBN:fi:amk-201805178719
Tiivistelmä
One of the most pressing challenges the world is facing is the growth of our population. With the growing trends of urbanisation comes a growing stress on the environment and the resources available, such as water, food and energy. Energy and electricity consumption has increased drastically since the 1970's fossil fuels contributing to a majority of production causing carbon dioxide and greenhouse gas emissions. Our dependence on said finite fuels is unsustainable as they will eventually be depleted. Both international and national efforts have been taken to mitigate the effect the actions of humankind have on our planet.

Electricity and heat production contributed to approximately 60 percent of global greenhouse gas emissions in 2016 and were the largest contributor of CO_2 emissions globally. Choosing heating methods, which use renewable energy sources as a fuel source reduce the demand for fossil fuels and furthermore reduce the emissions caused by the housing sector.

The purpose of this thesis was to study various sources of energy and evaluate the potential they have as a fuel source for various heating methods of single-family houses. The potential of the studied heating systems was evaluated using a case property built in 1958. The comparison of said systems was done considering the cost, CO_2 emissions and use of the system over a period of 20 years. Also, whether the primary heating system, oil heating, of the house should be changed was considered and the option of installing a complementary heating system was reviewed. As a conclusion, the pros and cons of all heating systems were gathered together and an alternative system was chosen.

From the point of view of cost, the combination of oil heating and an air-water heat pump system was the most inexpensive option. The highest cost of both fuel and cost of the system over 20 years was caused by the oil heating system and the combination of oil and solar heating systems. The lowest CO_2 emissions were created by the pellet heating system and the highest emissions were caused by the existing oil heating system. From the point of view of the consumer, geothermal heating was considered the easiest to use.
Kokoelmat