Virtual reality som terapeutiskt hjälpmedel i behandlingen av social ångest
Rönnqvist, Daniel; Svensson, Jonatan (2018)
---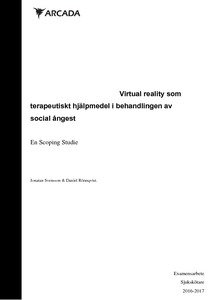 Rönnqvist, Daniel
Svensson, Jonatan
Yrkeshögskolan Arcada
2018
All rights reserved
Julkaisun pysyvä osoite on
http://urn.fi/URN:NBN:fi:amk-201805229576
Tiivistelmä
Studien är ett examensarbete under DeDiWe-projektet (Developer of Digital Health and Wellness Services). Projektet är ett samarbete mellan finska, estniska och litauiska skolor. Syftet med denna studie är att utforska effekten och faktorer i behandlingen av social ångest med virtual reality som ett terapeutiskt hjälpmedel. Bakgrunden är effekten, koncept och faktorer i behandlingen av ångeststörningar med virtual reality.
Det teoretiska perspektivet i studien är kognitivbeteende terapi och exponeringsterapi. Metoden för studien var en scoping studie och arbetet följer Arkseys & O'Malley's riktlinjerna för denna form av litteraturstudie. Materialet består av 17 artiklar som är indelat i teman effekt och koncept. Frågeställningarna i studien är: " Har virtual reality i samband med kognitiv terapi och enbart exponeringsterapi gett resultat?" och "Vilka faktorer spelar roll i behandlingen med virtual reality?" Resultatet visar att behandling med virtual reality har effekt, både kortsiktigt och långsiktigt. Resultatet belyser också de centrala faktorerna som bidrar effekt vid exponeringen: Virtual reality systemfaktorer, insänkning, det visuella vs det informativa, närvaro och känslor, man såg också att det är känslan av närvaro och insänkning som påverkar mest behandlings resultatet. Olika koncept har utforskats inom behandling av social ångest med virtual reality. Resultatet visar att man har sett på virtual reality behandling av barn i riskzon för social ångest, dubbelgångare, iscensättande av olika scenarion m.m. Resultaten gällande effekt är inte tillförlitligt, eftersom testgrupperna som undersöktes var små och metoden som användes var inriktad på glossofobi och inte social ångest. Utifrånanalysen och resultatet så kan det inte rekommenderas en implementering av virtual reality behandling för social ångest. En implementering av denna behandling skulle behöva mer forskning kring effekten av behandlingen, och hur det uppnås. Studien hänvisar till att det finns bred forskning inom ämnet virtual reality som hjälpmedel i vården, och vi anser efter mer forskning kommer virtual reality implementeras i vården.
The study is a thesis under the DeDiWe-project(Developer of Digital Health And Wellness Services). The project is a collaboration between Finnish-, Estonian-, and Latvian schools of applied sciences. The aim of this study is to explore the effect and the factors in the treatment of social anxiety with virtual reality as a therapeutic tool. The background for the study is based upon research on the effects, concepts and factors in the treatment of anxiety disorders with virtual reality. The theoretical perspective stems from literature on cognitive behavioral therapy and exposure therapy. The method used for the study was a scoping study, which followed Arkeys & O'Malley's guidelines for the method. The material analyzed consists of 17 articles which are divided into two different themes; effect and concept. The issues that this study answers is "Has virtualreality in cooperation with either cognitive behavioral therapy or exposure therapy yielded results"? and "What factors contributes to the treatment with virtual reality?" The results show that treatment with virtual reality has yielded effect, both short- and long term. The results also highlights the different factors that contribute to effect with exposure in virtual reality: Virtual reality system, immersion, presence, the visual vs
information and feelings. Studies show that the sense of presence and immersion are the factors that contribute most to the treatment with virtual reality. Different types of
concept has been explored within the treatment with virtual reality, for social anxiety. The results shows that there has been research done on children in the danger of
developing social anxiety, doppelganger and the staging of different social scenarios. The results regarding the effect isn't reliable. The study groups are too small, and the method used in the research was designed for glossofobi not social anxiety. In the light of the analysis and results it cannot be recommended to implement virtual reality treatment for social anxiety. An implementation of this treatment would require more research of the effect of the treatment, and how that is obtained. The study refers to a supplement of research done within the field of virtual reality as a therapeutic tool in healthcare, and we believe that after more research virtual reality will be implemented.
Kokoelmat