Prehospitalt bemötande av föräldrar som förlorat ett barn : En netnografisk studie
Löf, Pernilla (2018)
---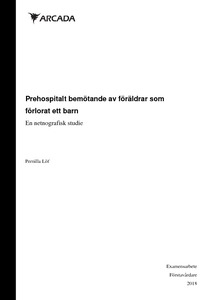 Yrkeshögskolan Arcada
2018
All rights reserved
Julkaisun pysyvä osoite on
http://urn.fi/URN:NBN:fi:amk-2018052410044
Tiivistelmä
Att plötsligt förlora ett barn är den största tragedin och psykiska påfrestningen en människa kan vara med om.Bemötandet redan i det prehospitala skedet har stor inverkan på lidandet och sätter grunden för den fortsatta bearbetningen av sorgen. Således är ett gott prehospitalt bemötande ytterst viktigt. Syftet med studien är att beskriva föräldrarnas lidande vid förlusten av ett barn, hur lidandet tar sig uttryck prehospitalt samt vad som prehospitalt kan göras för att lindra lidandet. Målet är att ur familjens synvinkel ge en inblick i och en ökad förståelse för lidande och den sorgeprocess förlusten ger upphov till. Resultatet önskas kunna ge akutvårdare verktyg samt förståelse för hur ett gott bemötande av anhöriga i sorg går till. Examensarbetets frågeställningar lyder:
1. Hur beskriver föräldrarna lidande vid förlusten av ett barn?
2. Hur tar sig lidandet uttryck i det prehospitala mötet?
3. Hur kan sörjande föräldrars lidande lindras prehospitalt?
K. Erikssons (1994) teori om lidande användes som teoretisk referensram. Studien, vilken är en netnografisk studie, bygger på analyser av 31 diskussionstrådar sörjande föräldrar emellan på 5 olika forum på internet. Som analysmetod valdes Kozinets (2011) innehållsanalys för netnografisk data, vilken är en kvalitativ och induktiv dataanalyseringsmetod som i denna studies fall gjordes manuellt genom kodning.Resultatet från studien visar att föräldrarnas lidande upplevs såväl på ett psykiskt, fysiskt som socialt plan där den största bakomliggande orsaken till lidandet är känslor av skuld, svek och misslyckande. I den prehospitala kontexten förstärks lidandet av ovissheten och tar sig ofta uttryck i form av olika sorgereaktioner. Vårdaren kan genom bemötande samt handlingar förmedla empati och således lindra föräldrarnas lidande samtidigt som det sätts en god grund till inledningen på sorgeprocessen.
The sudden death of a child is for the parents one of life´s greatest tragedies and takes a lot of psychological strength to overcome. The initial prehospital encounter will have a long-term influence on the bereaved parents grieving processes and is therefore needed to be sufficient and respectful. The aim of the study is to describe the bereaved parents suffering, describe how the suffering is expressed in a prehospital context and suggest what the paramedics can do to decrease the parents suffering and anxiety. The study contributes to a greater understanding of the suffering and grief the family is going through. The aim is also that the results of the study will give paramedics tools for how to respectfully and with empathy deal with grief and bereaved parents. The questions of the study are:
1. How do the bereaved parents explain suffering?
2. How is the suffering expressed during prehospital care?
3. How can the suffering of the bereaved parents be alleviated in prehospital care?
K. Eriksson´s (1994) theory of suffering was used as theoretical framework for this study. The study, which is a netnographic study, is based on analysis made out of 31 discussion threads written by bereaved parent on 5 web forums. The chosen method is a qualitative inductive content analysis developed by R. Kozinets (2011).The results of the study indicate that the sudden death of a child causes the bereaved parents not only suffering on a physical and psychological level, but on a social level as well. The biggest contributors to the suffering are feelings of failure and guilt. The uncertainty and lack of information during the prehospital care increases the suffering, which is expressed through individual reactions to grief. The paramedic is able to alleviate the bereaved parents suffering by showing empathy through actions, words and gestures.
Kokoelmat