Fritids aktiviteter för personer med intellektuell funktionsvariation
Meyer, Jessica (2018)
---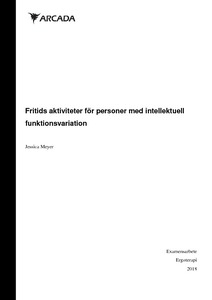 Yrkeshögskolan Arcada
2018
All rights reserved
Julkaisun pysyvä osoite on
http://urn.fi/URN:NBN:fi:amk-2018052810586
Tiivistelmä
Meningsfull aktivitet är kopplat till livsnjutning och välmående och förväntas främja känslor av glädje, spontanitet, kreativitet och självuttryck. När dessa domäner uppfylls i aktiviteten, så förstärks det känslomässiga och fysiska välmående hos personen. Personer med funktionsnedsättningar behöver ofta hjälp i att uppleva meningsfull aktivitet.
Syftet med detta examensarbete är att kartlägga vilka aktiviteter forskningen beskriver som värdefulla och vilka som främjar delaktighet med personer med funktionsvariation. Frågeställningen i arbetet var följande: Hurudana aktiviteter kan ses som aktiviteter med ett konkret-, ett symboliskt och/eller ett självbelönande värde för personer med funkt-ionsvariation? Och hurudana aktiviteter främjar delaktighet för personer med funktions-variation? Arbetet är ett beställningsarbete för Paljerinne boende, Rinnekoti föreningen. Arbetet genomfördes som en forskningsöversikt enligt Forsberg & Wengströms (2013) direktiv för en systematisk litteraturstudie. Databasen som använts i sökningen är Aca-demic Search Elite (EBESCO). Tolv artiklar inkluderades. Kraven för artiklarna var att de berörde personer med liknande kultur som i Finland och att de var publicerade efter år 2006. Artiklarna omfattar information om betydelsen av meningsfull aktivitet och fritids-intressen för personer med funktionsvariation. Resultaten visar att personer med olika grader av funktionsvariation upplever samma känslor av njutning i samband med en me-ningsfull aktivitet. Samtidigt bemöter dessa personer flera hinder. En utmaning är att ak-tiviteten inte bemöter det individuella intresset, vilket kan göra upplevelsen ointressant. För att skapa en meningsfull upplevelse i aktiviteten bör den ha en subjektiv betydelse. När dessa krav är bemötta blir aktiviteten hälsofrämjande för utföraren, vilket är grund-tanken bakom att erbjuda meningsfull aktivitet. Att vara delaktig i meningsfull aktivitet är betydelsefullt för välmående och personer med funktionsvariation behöver mångsidig as-sistans för att känna delaktigheten i det. Utan känslor av delaktighet, så förloras hälso-främjande egenskaperna av aktiviteten. Saker att beakta är social inkludering, kommuni-kation och anpassning av omgivningen i samband med det individuella behovet. Bästa resultat skapas genom att vara förberedd och skapa aktiviteten enligt utförarens behov.
Meaningful activity is linked to the enjoyment and prosperity of life and is expected to promote feelings of happiness, spontaneity, creativity and self-expression. When these domains are met in the activity, it enhances the emotional and physical well-being of the person. People with disabilities often need help in experiencing meaningful activity.
The purpose of this thesis is to identify which activities the research describes as valuable and which activities promote participation for people with functional disabilities. The framing of the question in the thesis was: What activities can be seen as activities with a concrete symbolic and / or self-worth value for people with functional variations? And what activities promote participation for people with functional variations. The thesis was a commissioned order for Paljerinne accommodation, the Rinnekoti association. The work was conducted as a research overview according to Forsberg & Wengströms (2013) di-rective for a systematic literature study. The database used was Academic Search Elite (EBESCO). Twelve articles were included. The requirements for the articles were that they concerned people of similar culture to Finland and that they were published after 2006. The articles include information on the significance of meaningful activity and hob-bies for persons with functional variations. The results show that people with different de-grees of function variation experience the same feelings of pleasure in connection with meaningful activity. Meanwhile, these people face more obstacles. One challenge is that the activity does not address the individual interest, which can make the experience unin-teresting. In order to create a meaningful experience in the activity, it should have a sub-jective meaning. When these demands are met, the activity becomes health promotion for the performer, which is the reason behind offering meaningful activity. Taking part in meaningful activity is important to the well-being, and people with functional variations need versatile assistance in order to feel involved in it. Without feelings of participation in connection to the activity, health-promoting properties are lost. Things to consider are; social inclusion, communication and adaptation of the environment in connection with in-dividual needs. The best results are created by being prepared and creating the activity ac-cording to the performer's needs.
Kokoelmat