Theseusta huolletaan. Kirjautuminen on estetty ja järjestelmän uudelleenindeksoinnista johtuen arkistossa näkyy alkuun vähemmän töitä kuin siellä oikeasti on.
Eye tracking studie: Hur kunden navigerar i- och upplever kexhyllan innan och efter dess förnyelse
Strandberg, Lia-Julia; Fagerstedt, Christoffer (2018)
---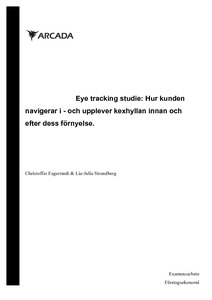 Strandberg, Lia-Julia
Fagerstedt, Christoffer
Yrkeshögskolan Arcada
2018
All rights reserved
Julkaisun pysyvä osoite on
http://urn.fi/URN:NBN:fi:amk-2018052810758
Tiivistelmä
Syftet med arbetet var att undersöka hur kunden navigerar vid kexhyllan och upplever hyllan, samt om och hur förändringarna i hyllan påverkar kunden. Arbetet kommer att besvara frågorna; hur många fixeringar produktgruppen samlat, hur många gånger produktgrupperna besökts, hur mycket tid spenderats inom produktgruppen och hur hyllan upplevdes. Produktgrupperna som undersöks är uppdelade i fyra kategorier. Chokladdelikatesser, fyllda kex, våfflor och andra kex, vilket står för andra söta kex förutom de tidigare nämnda. Studien har avgränsats till söta kex och kex för barn. Dessutom får endast kunder som på förhand bestämt att handla från produktgruppen delta i undersökningen. Förändringarna som sker i hyllan är bestämda på förhand av uppdragsgivaren, som vill förbli anonym. Teorin diskuterar hur viktigt det är för försäljaren att kommunicera väl med kunden genom en tydlig och välplanerad exponering av produkter. Studierna har bevisat att en tydlig gruppering av produkter, omplacering av produkter, en minskning i sortimentet och tydlig vägledning av köpprocessen i form av skyltar och sign-post, kan bidra till en förökning i försäljningen och leda till en positivare köpupplevelse. Undersökningen genomförs i två olika omgångar. Före och efter förändringarna i kexhyllans uppställning. Som forskningsmetod används en kombination av kvantitativ och kvalitativ metod. Respondenterna får genomföra ett köp och ha på sig ett par eye tracking glasögon. Efteråt skall de besvara på frågor om hur de upplevde kexhyllan. Resultat visar att det finns statistiskt signifikanta skillnader i kundens navigerande för produktgruppen chokladdelikatesser och för antalet fixeringar som produktgruppen andra kex samlat. Dessutom kan man se att det finns en skillnad i hur mycket intresse de olika produktgrupperna väckte, beroende på hur de omplacerades i hyllan. Förändringarna i hyllan bidrog även till en positivare köpupplevelse.
The aim of this case-study is to research how customers navigate at the cookie shelf and how they experience the shelf. In addition, if or how the changes in the shelf influence the customer. This thesis will answer the questions; how many fixations the product category gathers, how many visits does the category get, how long time will the customer spend in the category and how does the customer experience the shelf. The product categories that will be analyzed are chocolate delicates, filled cookies, waffles and the category other cookies, that represents all the other sweet cookies. This thesis will focus on sweet cookies and cookies for children. Additionally, only customers that intend to buy these products can participate in the survey. The changes that will occur at the shelf are settled from the constituent, who wants to stay anonymous. The theoretical part of this thesis discusses why it´s important for the retailer to communicate with the customer clearly through a well-organized exposure of products. This can contribute in increased sales and effect the buying experience positively. The research will be executed in two parts, one before and one after the changes at shelf has been made. The study is conducted using qualitative and quantitative method. The respondents will accomplish a purchase and wear a pair of eye tracking glasses. After the purchase has been done they will answer questions about their shopping experience. The results of this research provides, that there are significant differences in the navigation for the product category chocolate delicates and in how many fixations the category other cookies gathered. It´s also possible to notice that there is a difference in how much interest the categories evoke, depending on how the products are exposed. The changes at the shelf also contributed to a more positive buying process.
Kokoelmat