Protagonistens entrée och sortie : Lynne Ramsays visuella konventioner i huvudkaraktärens första och sista scener.
Ek, Sofia (2018)
---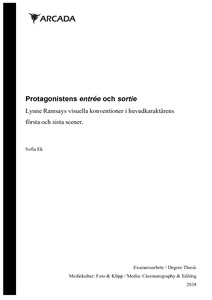 Yrkeshögskolan Arcada
2018
All rights reserved
Julkaisun pysyvä osoite on
http://urn.fi/URN:NBN:fi:amk-2018053011321
Tiivistelmä
I detta examensarbete har en personlig tolkning utförts på tre filmer regisserade av Lynne Ramsay: Ratcatcher (1999), Morvern Callar (2002) och We Need To Talk About Kevin (2011). Filmernas första och sista scener har analyserats för att finna visuella konventioner i huvudkaraktären (protagonistens) presentation och avslutning. Konventionerna består av dolda koder som måste läsas av tittaren. Arbetets huvudfokus ligger på hur Ramsay visuellt förmedlar protagonisten tankar, känslor och egenskaper. Detta betyder att musik, ljud, grafik och text utesluts från analysen. Med en skräddarsydd metod baserad på semiotik och auteurteori analyseras utvalda moment som anses tangera eller beskriva en stark presenterande eller avslutande egenskap hos protagonisten. De viktigaste källorna för metoden grundar sig på "Theories of cinema : 1945-1995" av Casetti (et. al.), "Semiotics : the basics" av Chandler och "Kommunikationsteorier : En introduktion" av Fiske & Olofsson. Syftet med arbetet är att inse makten i tecken och enstaka visuella berättarkomponenter vid förmedling av information till tittaren. Målet är även att utveckla mig själv vid planeringen och utförandet av filmatiska bilder. Resultatet till den första frågeställningen "vad finns det för visuella konventioner i protagonistens entrée och sortie" visade att konventionerna är väldigt specifika för berättelsen. Vissa berättarkomponenter som t.ex. komposition var inte tydligt bärande och filmerna hade mindre gemensamt än förväntat. Resultatet till den andra frågeställningen "kan man finna en konventionell stil i hur Ramsay presenterar och avslutar berättelsen" förblev därför svag. Huvudkaraktärens personlighetsdrag presenterades i ett chockerat tillstånd igenom visuella ledtrådar från prestationen, miljön och rekvisitan. Huvudkaraktären avslutades med ett mållöst uttryck där frågorna förblev obesvarade. Antingen i början eller i slutet användes även en drömlik sekvens där man inte uppfattade om eller när det hänt. Denna stil kunde inleda en vidare forskning kring Ramsays auteurstil, men den är inte tillräcklig begriplig för att kunna stå för sig själv. Genom att bryta ner Lynne Ramsays filmer har jag fått en uppfattning om effektiva och stilfulla sätt att föra fram berättelse och information. De som läser arbetet kan också få denna uppfattning om hur man på olika sätt kan förmedla karaktärens känslor, tankar och viljor via visuella koder.
This degree thesis consists of a personal interpretation of three films directed by Lynne Ramsay: Ratcatcher (1999), Morvern Callar (2002) and We Need To Talk About Kevin (2011). The first and last scenes of the films have been analyzed to find visual conventions in the main character's (protagonist) presentation and ending. The conventions consist of hidden codes that must be read by the viewer. The main focus of the work lies in how Ramsay visually conveys the protagonist's thoughts, feelings and qualities. This means that music, audio, graphics and text are excluded from the analysis. Selected elements, that are considered tangible or describe a strong presentation or ending feature of the protagonist, are analyzed through a tailored method based on semiotics and auteur-theory. The main sources of the method are based on "Theories of Cinema: 1945-1995" by Casetti (et al.), "Semiotics: the Basics" by Chandler and "Communication Theories: An Introduction" by Fiske & Olofsson. The purpose of the thesis is to recognize the power of signs and how a solitary visual narrative component can communicate information to the viewer. The goal is also to develop myself in the planning and execution of film imagery. The result of the first question "what visual conventions are there in the protagonist's entrée and sortie" showed that the conventions are very specific to the story. Some narrative components, for e.g. composition, didn't convey information as strong as thought, and the films had fewer things in common with each other than expected. The result of the second question "is it possible to find a conventional style in how Ramsay presents and ends the story" remained weak. The personality traits of the main character are presented in a shocked state through visual clues from the performance, the environment and the props. The main character finishes the story with a speechless expression and some questions remain unanswered. A dreamlike sequence is used either at the beginning or at the end, where the viewer can't firmly perceive if or when it occurred. This suggested style could be used in further research on Ramsay's auteur-style, but it is not sufficiently comprehensible enough to stand by itself. By breaking down Lynne Ramsay's films, I have gained an understanding of ​​effective and stylish ways to convey story and information. Those who read this thesis can also get this appreciation of ​​how to convey a character's feelings, thoughts and wills through visual codes in different ways.
Kokoelmat