Outdoor Aquaculture Pond for Pike-perch Fingerlings Production at a Biogas Plant
Tran, Nhi (2018)
---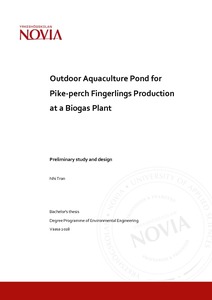 Yrkeshögskolan Novia
2018
All rights reserved
Julkaisun pysyvä osoite on
http://urn.fi/URN:NBN:fi:amk-2018060312158
Tiivistelmä
The aim of the thesis was to analyze the water quality data from the groundwater source in Stormossen for compiling necessary information about the appropriate environment to grow pike-perch juveniles from the beginning of catching the broodstocks (wild parents fish) to production of juveniles and design a pilot outdoor aquaculture pond suitable for all stages of the project.
The thesis, carried out as part of the Pike-perch juvenile farming in Stormossen, analyzes the water quality data from groundwater source provided by Stormossen to investigate the possibility of fish production with groundwater source in a waste treatment area. It also highlights the guidelines for water quality requirement to grow pike-perch.
The thesis is theoretical-based, and assumptions are made throughout the process of conducting this thesis.
In conclusion, the thesis provided a sufficient insight to the aquaculture construction and pike-perch farming including the importance of water quality in governing the health of fish. It is also recommended a retesting for new water quality data is necessary to ensure the success of this project.
Syftet med detta examensarbete har varit att analysera vattenkvaliteten från grundvattenkällor kring Stormossen för att sammanställa information om en lämplig miljö för att odla gös, från infångandet av avelsbestånd (vild, äldre fisk), till produktionen av yngel. En modell för en utomhusvattenbruksbassäng, lämplig för alla skeden av projektet, har även designats.
Examensarbetet, som är utfört som en del av gösyngelodlingen vid Stormossen, analyserar vattenkvaliteten från den grundvattenkälla som ställts till förfogande av Stormossen med syftet att närmare undersöka möjligheterna för fiskproduktion med hjälp av grundvatten från ett avfallshanteringsområde. Arbetet belyser även de krav på vattenkvaliteten som gösodling ställer.
Examensarbetet är teoretiskt baserat, och välgrundade antaganden har gjorts genom arbetsprocessen.
Sammanfattningsvis bistår examensarbetet med att skapa en tillfredsställande insyn i vattenbrukskonstruktion med ett fokus på gösodling, och vattenkvalitetens betydelse för regleringen av fiskarnas hälsa poängteras. För att lyckas med projektet rekommenderas en kontinuerlig testning av vattenkvaliteten.
Kokoelmat