Bidragande faktorer till välbefinnande bland hemvårdens personal : - En deskriptiv litteraturstudie
Anderssén, Isabella (2018)
---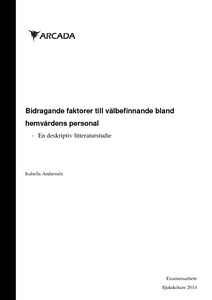 Yrkeshögskolan Arcada
2018
All rights reserved
Julkaisun pysyvä osoite on
http://urn.fi/URN:NBN:fi:amk-2018060512557
Tiivistelmä
Hemvården befinner sig för tillfället i en fas av utveckling och förändring. Det är tänkt att äldre ska kunna bo hemma så länge som möjligt med hjälp av god hemvård. Regeringens spetsprojekt (2016) har som mål att förbättra hemvården och på samma gång göra den så jämlik som möjligt. Enligt statistikcentralen (2016) kommer en stor del av befolkningen inom några år att befinna sig i den övre delen av befolkningspyramiden. Det leder till högre krav på vården och speciellt hemvårdens personal eftersom så många som möjligt ska vårdas i hemmet. Därför är det viktigt att vårdpersonalen inom hemvården trivs och att hemvården är en attraktiv arbetsplats. Syftet med examensarbetet är att lyfta fram faktorer som kan anses bidra till personalens välbefinnande inom hemvården. Arbetet är en del av
projektet NURED (nurse education development). Projektet har som mål att förbättra och utveckla läroplaner med syftet att vårdare ska bli bättre förberedda för att arbeta inom
hemvården. Man vill även framhäva betydelsen av en god utbildning samt belysa värdet av arbetet inom hemvården. Examensarbetet är en deskriptiv litteraturstudie som har
analyserats kvalitativ med ett induktivt perspektiv. Material till arbetet har hittats ge-nom sökmotorerna chinal, pubmed och academic search elite. Artiklarna är inte äldre än 11 år och är begränsade till Europa och Nord Amerika. Sökord som har använts är nurse,
wellbeing, work satisfaction, health, happiness och homecare. I resultatet framkommer det att flera faktorer kan anses bidra till välbefinnande och trivsel för vårdpersonalen inom hemvården. Hälsofrämjande ledarskap, bra arbetsmiljö, varierande arbetsuppgifter och att få delta när beslut fattas kan anses bidragande. Dessutom är det viktigt med goda
arbetsvillkor, tillräckligt med personal, bra grundläggande utbildning och en positiv och stöttande omgivning. Många vårdare ansåg även att känslan av att man gör något posi-tivt och relationen till klienterna gjorde att man vill arbeta inom hemvården fastän arbe-tet kunde vara tungt. Resultatet belyser många viktiga aspekter och ger ett brett per-spektiv över vad det är som får vårdare att må bra inom hemvården. Förhoppningarna med detta examensarbete är att vårdpersonalens trivsel inom hemvården ska uppmärk-sammas.
Dessutom kunde arbetet användas som grund för fortsatta forskningar.
The home healthcare is currently in a phase of development and change. Elderly are supposed to be able to live at home for as long as possible with the help of home healthcare. The government's spearhead projects (2016) aspires to improve and create equal home healthcare for everyone. According to Statistics Finland (2016), Finland has got a kite-shaped population pyramid, and the wide middle part is constantly going upwards, towards the age where they would need frequent healthcare. From this arises a higher demand that the home healthcare needs to take care of, therefore it is important that the home healthcare staff enjoy their work and the working environment. The purpose of this thesis is to bring forward factors that are considered instrumental to the wellbeing of home healthcare professionals. The thesis is a part of the project NURED (Nurse Education Development). The project works towards a program that will give better conditions for healthcare workers. Another goal is to show how important good education is and the worth of the work done in home healthcare. The thesis is a
descriptive literature study that has been qualitatively analysed with an inductive
perspective. Articles have been found by using the search engines chinal, pubmed and academic search elite. The articles that have been used are of 11 years of age or newer and they are geographically limited to North America and Europe. Search terms that have been used are nurse, wellbeing, work satisfaction, health, happiness, and home care. The result of this study is that health promotive work, a good working
environment, varying tasks and having a say in
decision-making can be considered instrumental to the wellbeing of healthcare workers in the home healthcare. Other things of importance were good working conditions, sufficient amount of staff, good
base-education and a positive and supportive environment. The results shed some light on a lot of important details and gives a wide overview of what makes home healthcare
professionals feel good at work. The goal of this thesis is to increase the awareness of the situation in the home healthcare and serve as a stepping stone for future research in the field.
Kokoelmat