"Att motionera och äta väl är något av det viktigaste i mitt liv" : en kvalitativ studie om hur kosten kan påverka träning och prestationsförmåga
Pelander, Axel (2018)
---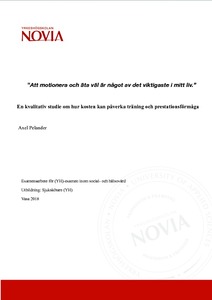 Yrkeshögskolan Novia
2018
All rights reserved
Julkaisun pysyvä osoite on
http://urn.fi/URN:NBN:fi:amk-2018060412457
Tiivistelmä
Syftet med denna examensarbete är att studera om kostens och kosttillskottens inverkan på träning och prestationsförmåga. Meningen är att se om man med hjälp av kosten kan förbättra sin träning och hur man presterar under det. Syftet är också att se om kosttillskott var nödvändiga att äta när man tränar och hurudan nytta man har av att äta dem.
Denna kvalitativa studie gjordes som en semistrukturerad intervjustudie. Innehållet som samlades genom intervjuer analyserades genom kvalitativ innehållsanalys. Informanterna i studien är två motionärer och två före detta elitidrottare. Teoretiska utgångspunkten i arbetet var Nola J. Penders Health Promotion Model, en modell om hur man ska uppnå optimal nivå av hälsa. Bakgrunden består av material från litteratur och vetenskapliga artiklar. I diskussionen har resultatet jämförts med materialet i bakgrunden och med den teoretiska utgångspunkten.
I Resultatet framkom att kosten har en viktig roll för träning och prestationsförmåga. Enligt informanterna kände de speciellt av den negativa effekten av att ha ätit dåligt. Energin fanns inte där, man orkade inte lika länge och prestationsförmågan var nedsatt. Olika kosttillskott hade samtliga informanter använt sig av och de ansåg att det hade nytta på prestation, återhämtning och även på välmående.
The purpose of this qualitative study is to investigate how diet and use of dietary supplements affect training and ability to perform. The intention is to see if you, with a good diet, can improve your exercise and how you perform during it. The aim is also to find out if it is necessary to eat dietary supplements and what kind of benefit you gain by eating them.
This qualitative study was performed as a semi-structured interview study. The content gathered by interviews was analyzed by qualitative content analysis. The informants in this study are two exercisers and two former elite athletes. The theoretical framework in this study is Nola J. Penders Health Promotion Model, a model of how to achieve optimum level of health. The background consists of literature and scientific articles about the subject. In the discussion part of this work, the result is compared with the material in the background and the theoretical framework.
In the result it emerged that diet plays an important role in training and the ability to perform. According to the informants, the negative effect of eating poorly affected their training. The energy was not there, they could not exercise as long as usually and their ability to perform was reduced. Different dietary supplements were used by all of the informants and they all had benefits of using them. According to the informants it benefited their ability to perform, their recovery and well-being.
Kokoelmat