Helveteseld : en enkätstudie av bältros
Nybacka, Jessica (2018)
---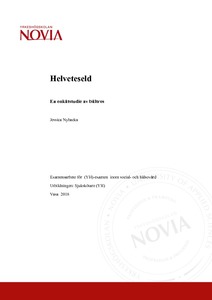 Yrkeshögskolan Novia
2018
All rights reserved
Julkaisun pysyvä osoite on
http://urn.fi/URN:NBN:fi:amk-2018060713099
Tiivistelmä
Syftet med studien är att få djupare kunskap om sjukdomen bältros. Respondenten är intresserad av hur sjukdomen upplevs ur patientens synvinkel och hurudan vård patienten fått. Enkät med öppna frågor användes som metod till studien och enkäten skickades till informanter som själva haft infektionssjukdomen. Materialet analyserades sedan med hjälp av innehållsanalys. Katie Erikssons vårdteorier om lidande användes som teoretisk utgångspunkt. Respondenten undersökte om informanterna haft ett sjukdomslidande och om det uppstått lidande under vården. Resultatet relaterades till tidigare forskning om bältros och till Erikssons vårdteori.
Elva informanter, som själva haft sjukdomen bältros, har svarat på enkäten. Informanternas ålder, när de hade bältros, varierade från litet barn till åldring. Resultatet visar att smärta är vanligt bland bältrospatienter och att infektionen kan drabba alla, gammal som ung. Blåsorna kan finnas på många olika ställen på kroppen och för sjukskötare är det viktigt att känna till symtomen så bältrospatienter får vård så fort som möjligt och för att minska lidande som uppstår på grund av en reaktivering av varicella-zosterviruset. Alla informanter i studien fick vård för sin sjukdom. I förebyggande syfte är det också av stor vikt att känna till riskpatienterna och vid kontakt diskutera eventuell vaccinering med dessa.
The purpose of this study is to gain deeper knowledge about the disease shingles. The respondent is interested in how the disease is perceived from the patient ́s point of view and the way in which the patient is treated. Open questionnaire survey is used as a method for the study and the questionnaire was sent to informants who themselves had the disease. The material was analyzed using content analysis. Katie Eriksson ́s care theories of suffering was used as a theoretical starting point. The respondent investigated whether the informants suffered from a disease and suffered during care. The result was related to previous research on shingles and to Eriksson ́s care theory.
Eleven informants, who themselves had the disease shingles, answered the questionnaire. The age of the informants, when they had shingles, has varied from infant to aging. The results show that pain is common among patients with shingles, and the infection can affect everyone, both old and young people. The blisters can be found in various parts of the body and for nurses it is important to know the symptoms so that patients get care as quickly as possible and to help reduce the suffering caused by a reactivation of the varicella zoster virus. All informants in the study received care for their illness. For prevention, it is also important for nurses to know the riskpatients and discussing possible vaccination with them.
Kokoelmat