Neuromarketing : Understanding Customers' Subconscious Responses to Marketing
Suomala, Jyrki; Palokangas, Lauri; Leminen, Seppo; Westerlund, Mika; Heinonen, Jarmo; Numminen, Jussi (2012)
---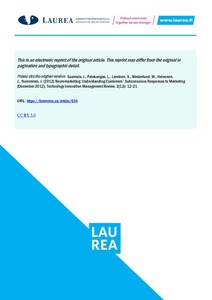 Suomala, Jyrki
Palokangas, Lauri
Leminen, Seppo
Westerlund, Mika
Heinonen, Jarmo
Numminen, Jussi
Talent First Network (Carleton University)
2012
CC BY 3.0
Julkaisun pysyvä osoite on
http://urn.fi/URN:NBN:fi:amk-2018061313702
Lähdeviite:
Suomala J., Palokangas L., Leminen S., Westerlund M., Heinonen J., Numminen J., (2012). Neuromarketing : Understanding Customers' Subconscious Responses to Marketing. , Talent First Network (Carleton University).
URN:NBN:fi:amk-2018061313702
Tiivistelmä
This article presents neuromarketing as a way to detect brain activation during customer engagement. Neuromarketing is a field of marketing research that studies consumers' sensorimotor, cognitive, and affective response to marketing stimuli. We established a Virtual Customer Journey model based on the consultative selling process to study customer engagement by using brain scans. Consultative selling suggests that a customer's shopping experience is managed by the salesperson's behaviour and in-store marketing assets, and that the customer gets engaged step by step. A total of 16 test subjects were shown video clips and still pictures from a consultative sales process at Nokia's flagship stores, and their brain activity was scanned. The results show that test subjects were able to associate themselves with people and events on the video and they felt safe and comfortable during the consultative selling process. The study implies that laboratories can build virtual environments that resemble real shopping environments where customers can participate in the buying process and respond to events displayed on the screen, and that neuroimaging is useful in providing valuable information on customer behaviour that is not achievable otherwise.
Kokoelmat