Ethics of Open Source Intelligence Applied by Maritime Law Enforcement Authorities
Rajamäki, Jyri; Sarlio-Siintola, Sari; Simola, Jussi (2018)
---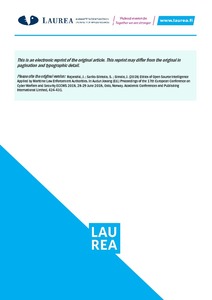 Rajamäki, Jyri
Sarlio-Siintola, Sari
Simola, Jussi
Academic Conferences and Publishing International Limited
2018
Julkaisun pysyvä osoite on
http://urn.fi/URN:NBN:fi-fe2018090334537
Lähdeviite:
Rajamäki J., Sarlio-Siintola S., Simola J., (2018). Ethics of Open Source Intelligence Applied by Maritime Law Enforcement Authorities. ,
Proceedings of the 17th European Conference on Cyber Warfare and Security ECCWS 2018, 28-29 June 2018, Oslo, Norway
., Academic Conferences and Publishing International Limited.
URN:NBN:fi-fe2018090334537
Tiivistelmä
The MARISA Horizon 2020 project improves maritime security communities' information exchange, situational awareness, decision-making and reaction capabilities with a data fusion toolkit based on various heterogeneous and homogeneous data and information. Open source intelligence (OSINT) is intelligence collected from publicly available sources, including the internet, newspapers, radio, television, government reports and professional and academic literature. Social media intelligence (SOCMINT) can be defined as the analytical exploitation of information available on social media networks. It identifies social media content as an opportunity and challenge for open source investigations. This paper provides qualitative analysis of ethics in maritime surveillance. Ethical issues concerning OSINT, SOCMINT and big data are diverse and evolving. Their impact on MARISA concerns both technology, user processes and the business/governance model. Even though international regulatory guidelines are available, specific allowances, prohibitions and exceptions mainly stem from national legislation. European Data Protection Reform (EDPR) partly harmonizes the data protection regulation in EU countries (DPA), but still leaves the possibility for variation at the national level (DPD). One big challenge is coping with the mosaic effect. Data protection sets strong requirements for MARISA technology, utilizing various data sources and performing data fusions on various levels. Another big challenge concerns the reliance on automated analysis: How can data fusion algorithms which are reliable and transparent for the end user be developed? Combined with OSINT, big data is able to map behaviour and tendencies. However, data science is needed in OSINT because of the lack/low quality of big data, to find the correct answers, capture the correct data and to have the correct perception of how to proceed throughout the process. In the context of big data, it is also notable that current academic and public debates entertain the notion of shifting the emphasis from data collection to data analytics and data use. There are scholars who underline the need for "algorithmic accountability". It can therefore be expected that the legal requirements concerning personal data processing and big data may develop in this direction. Therefore, to separate the ethics of data collection from the ethics of processing and use is essential.
Kokoelmat