Modeevenemang : en kvalitativ studie om hur ett modeevenemang byggs upp från början till evenemangsdagen
Dahlström, Christa; Ravall, Jessica (2018)
---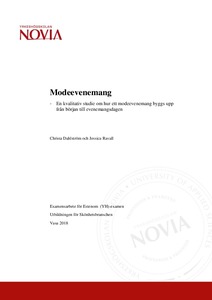 Dahlström, Christa
Ravall, Jessica
Yrkeshögskolan Novia
2018
All rights reserved
Julkaisun pysyvä osoite on
http://urn.fi/URN:NBN:fi:amk-2018111116939
Tiivistelmä
Syftet med detta examensarbete är att ta reda på vad ett modeevenemang innebär i dagens läge samt hur det byggs upp från början till evenemangsdagen. Skribenterna valde detta ämne eftersom evenemangsplanering skulle kunna vara ett potentiellt framtida arbete och eftersom skribenterna vill öka kunskapen om vad som händer före evenemanget. Arbetet är till nytta för branschmänniskor, framtida evenemangsplanerare samt skribenterna själva.
Arbetet är en kvalitativ studie som genomförts med hjälp av intervjuer, observation och med datainsamlingsmetoden innehållsanalys.
Resultatet visar att begreppet modeevenemang definieras av ett specifikt tema och att evenemangets huvudsakliga uppgift är att marknadsföra samt inspirera besökarna. Modeevenemang kan skiljas åt beroende på dess tema och storlek men allt utgår ifrån samma grundteori för hur man bygger upp ett evenemang. Planeringsprocessen är lång och innehåller många viktiga delar, därför behövs ett brett och professionellt team som ansvarar för olika områden med en eller flera projektledare i spetsen samt relevanta och intresseväckande samarbetspartners. För ett framgångsrikt evenemang krävs en välgjord planering samt tydlig och fungerande kommunikation inom teamet.
The purpose of this study is to get a knowledge about the meaning of fashion event in today's society as well as how it's built from the beginning to the day of the event. The study has been done because event planning could be a potential job in the future and because the respondents want to know more about what really happens before the event. This study is useful to people in the fashion industry as well as event planners and the respondents themselves in the future.
This is a qualitative study that has been achieved by using interviews, observation and with the content analysis method.
The result reveals that the concept fashion event is defined by a specific theme and that the main point of the event is to promote and inspire visitors. Fashion events are divided based on their theme and size, although everything is based on the same theory on how to plan an event. The process of planning is time-consuming and contains many important parts, therefore a wide and professional team with specific areas of responsibility is well needed with one or two project managers in the lead as well as relevant and attractive cooperation partners. To get a successful event it is required to have a well-planned process and a good communication.
Kokoelmat