Emerging Infections in the Elderly: Prevention and Control Challenges in Elderly Homes
Hamis, Sihoja (2018)
---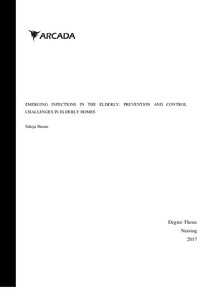 Yrkeshögskolan Arcada
2018
All rights reserved
Julkaisun pysyvä osoite on
http://urn.fi/URN:NBN:fi:amk-2018111617331
Tiivistelmä
Abstract:
Background: Old age is inevitable. Successful aging is the wish of everybody. It is just unfortunately that aging is associated with some difficulties due to general body deterioration and immunocompromised. Healthcare facilities such as hospitals and acute care centers are frequently visited at old age. Infections are the reason or outcomes for the visits. Due to cost minimization and release of caring burden in the hospital and acute care, long-term care facilities are destinations for elderly. The aim is to have better life, but it is against the expectations, long-term care facilities are now reservoir of infections. Prevention and control of infections in long-term care facilities is still a challenge. Therefore, there is a need to highlight about infections in general especially in elderly homes since there are limited number of studies in that area. In doing that, this study intends to 1) identify the risks factors for infections in the elderly. 2) Identify the common types of infections in the elderly homes 3) identify the challenges facing infection prevention and control efforts. 4) Identify nursing roles in prevention and control of infections in the elderly homes.
Method: Literature review is an opted method due to time and fund limits. To achieve that, Via Arcada university of Applied science webpage, articles were searched from PUBMED, ELITE and SAGE and nine out of ten articles were selected and via Google search, the 10th articles was obtained which happened to be published in Science Direct database also. The content of these articles was qualitatively analyzed to get the results.
Results: The prevalence of infections in long-term care facilities is reported to have down sized trend from 9.1% in 2008 to (6-7) % in 2016-2017 for Finland. Reasons for this are: General body deteriorations, immune compromised state of elderly's bodies, unsafe living environment in long-term care facilities, care givers knowledge about old age, aging, and infections. Fund and other resources, unnecessary prescriptions and antibiotic use, as well as hands hygiene and aseptic techniques in general care. Patients /nurse ratio in long term care facilities, Lack of experts in infections prevention and control, poor preparation of new nurses from school.
Conclusion: The problem is still big, quick actions are recommended such as changing curriculum, in service training. Nurses have to be learning every day to update their knowledge and they should be the role model for patients and visitor.
Kokoelmat