Intäktsgenereringsmodeller i videospel
Rehbinder, Otto (2018)
---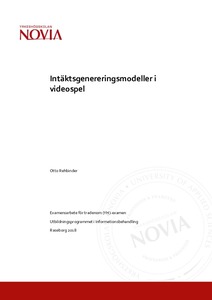 Yrkeshögskolan Novia
2018
All rights reserved
Julkaisun pysyvä osoite on
http://urn.fi/URN:NBN:fi:amk-2018112117675
Tiivistelmä
Abstrakt
Syftet med examensarbetet var att analysera intäktsgenerering i MMO spel (Massive Multiplayer Online Games). Dessa spel var ursprungligen PC spel med intäktsgenerering baserad på inköpspris och prenumerationsavgifter. I dag finns också mobila MMO spel och många olika betalningsmetoder används även i PC-spelen.
Betalningsmetoderna undersöks i detalj för sex MMO spel: World of Warcraft, Rainbow Six Siege, Overwatch, Modern Combat 5, Fortnite och Clash Royale. Härvid granskas också om det finns olikheter mellan PC spelen och de mobila MMO spelen. Sambandet mellan speldesign och betalningsmetoder diskuteras också.
Av de tre undersökta PC spelen baserar sig alla på premiummodellen medan alla de mobila spelen är free to play. I det här avseendet belyser de undersökta spelen hur de båda huvudbetalningsmodellerna generellt har utvecklats i videospel.
Spelets ålder avspeglar sig i betalningsmetoderna men undersökningen visade att
också spel som utkommit ungefär samtidigt uppvisar stora skillnader. Det gäller även användningen av skattkistor som blivit en allt populärare betalningsmetod i nyare spel. Overwatch strategi är helt uppbyggd på skattkistor. Skattkistor också är viktiga i de andra spelen, med undantag för Fortnite. Men i de andra spelen finns kan man också köpa virtuella produkter direkt utan att behöva köpa en skattkista som kan innehålla sådana.
Undersökningen visade också att det finns ett viktigt samband mellan speldesign och strategin för betalningsmetoderna. Vilken typ av spel det är fråga om påverkar betalningsmetoderna. Och genom speldesign kan man skapa element som ökar efterfrågan på speciella virtuella produkter.
The purpose of the thesis was to analyze monetization in MMO (Massive Multiplayer Online) games. These games have originally been PC games with monetization based on acquisition price and subscriptions. Today you can find also mobile MMO games and many monetization methods are used for PC games as well.
The monetization methods for the following six MMO games are analyzed in detail: World of Warcraft, Rainbow Six Siege, Overwatch, Modern Combat 5, Fortnite and Clash Royale. The thesis also looks at whether there are differences between the PC games and MMOGs designed for mobile devices. The relation between game design and monetization methods is also discussed.
All three PC games studied base their monetization on a premium model and all mobile games on a free to play model. In this aspect the games which were studied reflect how monetization methods generally have developed.
The age of the game is reflected in the methods to generate income. But the thesis shows that also games published at about the same time show important differences. Such differences are found even in the use of loot boxes, which has become a popular monetization method over the last years. The monetization strategy in Overwatch is completely based on loot boxes. They are an important monetization method also in the other newer games with the exception of Fortnite. But in the other games you can buy virtual products directly without having to acquire loot boxes which may contain them.
The study points at how game design and monetization strategy are interlinked. The type of game in question affects the monetization options. And through game design it is possible to create elements which seek to increase demand for specific virtual products.
Kokoelmat