Handbok för byggandet av stockhus
Johansson, Filip (2018)
---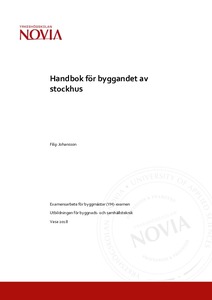 Yrkeshögskolan Novia
2018
All rights reserved
Julkaisun pysyvä osoite on
http://urn.fi/URN:NBN:fi:amk-2018112518113
Tiivistelmä
Detta examensarbete innehåller grundprinciper för vad man som timmerman bör veta och tänka på före uppsättning av ett prefabricerat stockhus. Arbetet koncentrerar sig på stommen, vattentakkonstruktioner, mellanväggar, fönster och dörrar.
Först behandlar arbetet stockens egenskaper för att läsaren skall få en uppfattning om vad allting grundar sig på. Det viktigaste man bör minnas då man arbetar med stockhus är att stocken torkar, med den påföljden att huset sätter sig. Byggdetaljerna som kommer senare i texten tangerar detta ämne konstant.
Målet med examensarbetet var att sammanställa en handbok för småföretagare så att de kan vara med och tävla om dessa husprojekt. Tanken är också att kunder skall kunna anlita kunniga lokala småföretagare. Stockhus har blivit väldigt populära under de
senaste åren. Orsakerna är säkert många men en stor orsak är säkert att man uppskattar konstruktioner som "andas".
Examensarbetet är en litteraturstudie. Innehållet baserar sig på faktaböcker, tillförlitliga internet källor och anvisningsdokument utarbetade av stockhustillverkare.
This bachelor´s thesis contains the most important principles a carpenter has to know before starting to build a prefabricated timber house. This thesis concentrates on framework, roof construction, partitions, windows and doors. It describes the qualities of the timber so that the reader gets a comprehension of these kinds of constructions. The main thing to remember when working with timber houses is that timber will dry. As a consequence the building will settle. The construction details described later on in the
text constantly refer to this fact.
The aim of this work is to draw up an instruction manual for entrepreneurs (small businesses) so that they could compete about these building projects. Customers should be able to engage competent local small businesses. Timber houses have gained in popularity during the last few years. There are several reasons for this but one of the main reasons are the so called breathing constructions.
The bachelor´s thesis is a literature study. The contents are based on fact books, reliable Internet sources and instruction documents made by producers of timber houses.
Kokoelmat