Enhancing the technical resilience of critical infrastructure with additive manufacturing
Rautio, Samu; Valtonen, Ilari; Pirinen, Rauno (2018)
---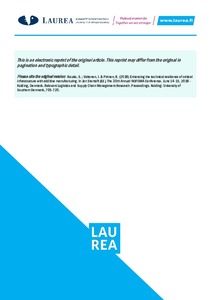 Rautio, Samu
Valtonen, Ilari
Pirinen, Rauno
University of Southern Denmark
2018
Julkaisun pysyvä osoite on
http://urn.fi/URN:NBN:fi:amk-2018112818793
Tiivistelmä
Purpose
The purpose of this study was to explore the potential of additive manufacturing (AM) for improving the logistics of supplying critical spare parts, so that larger quantities of spare parts can be manufactured directly in the field. A contribution of the study is to address the need to reduce the storage of spare parts, shorten repair time, increase the usability of resources, test the concept of operation, enhance the readiness time of the critical infrastructure, and heighten its technical resilience.

Design/methodology/approach
In this study, we investigated the internal resilience of waterworks, particularly "technical resilience," which here is interpreted according to the approach and definitions of the US National Infrastructure Advisory Council. The Hayes and Wheelwright four-stage model of operations strategy (1984) (Hayes & Wheelwright, 1984) was applied to the present case, which focused on the spare parts supply chain, production, and operational needs. The perspective of the study was a worst case scenario in respect of critical parts of the water pumps of the waterworks, which were computer-aided design (CAD) modeled and additive manufacturing (AM) simulated.

Findings
In the present case, it was found that four fifths of the critical spare parts could be 3Dprinted directly and one fifth could be cast. This suggests that 3D printing can increase the
availability of spare parts, especially in a situation where the security of supply has declined.

Research limitations/implications
This study was limited to the operational environment of one Finnish waterworks and one of its pump types, in a setting in Finland where 3D printers were available.

Original/value
Technical resilience and AM were examined and evaluated in this study mainly from the point of view of supply chain resilience and AM in the spare parts supply chain in the context of a critical infrastructure. The results may be valuable to decision-makers,manufacturers, and infrastructure managers of the security of supply.
Kokoelmat