Proudly Presenting, for the first time in Finland, Master's Degree of Beauty and Cosmetics : Designing the Curriculum with Participative Pedagogy
Poutanen, Marjo (2018)
---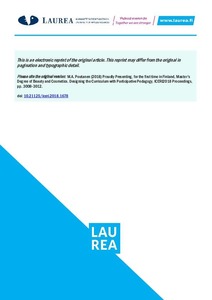 International Academy of Technology, Education and Development
2018
Julkaisun pysyvä osoite on
http://urn.fi/URN:NBN:fi:amk-2018120520287
Tiivistelmä
The Objectives:
The aim of this article is to describe the new experiences and communal methods for developing the curriculum for the Master's Degree of Beauty and Cosmetics. The Degree is first one in Finland and in Nordic Countries. The first group of students in the degree began their studies in January 2018 in Laurea University of Applied Sciences (Laurea UAS).
Another aim is to describe the experiences of students and teachers after programme-specific core competence studies and to describe the effect of collected feedback on the continuous development of the curriculum.

Methodology:
The development in this new Degree was done following Laurea UAS's Learning by Developing (LbD) pedagogical model (Raij 2014.) and with close cooperation with the working-life. Laurea UAS has created a LbD model based on authenticity, partnership, experiential learning, creativity and research. LbD model creates a network between education, working life and regional development.The needs analysis was carried out to study the eventual demand for the Degree programme. (Larinen 2017). Communal methods were utilized through the development of the curriculum. Two workshops, for example, were held to which the representatives of the working life were invited to tell about the competence needs for the Beauty and Cosmetics field. The possible applicants were invited to the workshops to develop and design the contents of core competence together with the working life. In this paper, the outcome of the needs analysis and workshops will be presented and the effect on the curriculum described.

Results:
In the current curriculum the studies comprise 30 credits of programme-specific core competence. The core competence is supplemented by Laurea's joint offer of complementary studies, where students can select 30 credits of management and development studies as indicated by your personal needs and theisi, 30 credits. The core competence studies gives students a readiness to analyse changes in the cosmetic business environment with different tools. One objective of the studies is that the student will be able to apply the principles of sustainability in the value chain of the cosmetics. Another objective is to initiate the possibilities of the judicial regulation and the effects of different cultural environments on cosmetic business.

Conclusion:
Laurea UAS offers 12 Master's degree programmes. A Master's degree will deepen and expand student's competence and give eligibility for roles where a postgraduate degree is required. The curriculum of the Master's Degree of Beauty and Cosmetics was developed using communal methods and working closely with working life. According to LbD, it will be continuously updated to match future competence needs in the cosmetics field. Student feedback is presented in this article. Feedback was collected in the middle of core competence studies and in the final stage of the studies. The feedback was similar to the observations made by the multiprofessional group of teachers.
Kokoelmat