Äldres tankar om delaktighet i hemvården : En litteraturstudie
Pitkänen, Sofia (2018)
---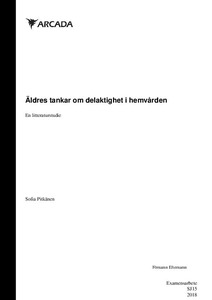 Yrkeshögskolan Arcada
2018
All rights reserved
Julkaisun pysyvä osoite on
http://urn.fi/URN:NBN:fi:amk-2018121120904
Tiivistelmä
Finlands befolkningsstruktur kommer att förändras i framtiden eftersom antalet äldre personer kommer att öka. Det måste hittas resurser för att möta förändringen för att man ska kunna säkerställa ett så friskt åldrande som möjligt, eftersom de i dag befintliga resurserna inte kan svara på framtidens behov.
Examensarbetet är ett beställningsarbete av Sibbo kommun. Projektet som examensarbetet ingår i heter: Äldres röst att vara subjekt i sin egen vardag ett forsknings och utvecklingsprojekt i Sibbo kommun 2014 2017. Projektets mål är att ta fram en mer individcentrerad verksamhet där de äldre och mest utsatta får en möjlighet och stöd för att få sin röst hörd i utveckling och beslutsfattande.
Det här examensarbetet är en litteraturstudie. Studiens syfte är att främja äldres delaktighet inom äldreservicen ur ett individcentrerat perspektiv. Avsikten är att främja bra vård som förbättrar livskvaliteten. Sammanlagt tio vetenskapliga forskningsartiklar har använts och analyserats med hjälp av en innehållsanalys. Innehållsanalysen har gjorts induktivt. Till inklusionskriterierna för materialet hörde att artiklarna skulle vara skrivna på svenska, finska eller engelska och publicerade mellan åren 2007 och 2017. Som teoretisk referensram valdes salutogenesen och en känsla av sammanhang, KASAM. Teorin består av tre delar: begriplighet, hanterbarhet och meningsfullhet. I resultatet framkom det att delaktighetsfrämjande faktorer i hemvården enligt äldre är: sköterskan, vården, individanpassat, autonomi, identitet, relationer och attityder. Resultatet presenteras också med hjälp av en figur.
Finland´s population structure is going to change in the future as the number of older will increase. Resources has to be found to meet the change in order to ensure healthy aging, because today existing resources can not respond to the future needs.
The thesis is a requested job by the municipality of Sipoo. The project that this study is included in is named: Äldres röst att vara subjekt i sin egen vardag ett forsknings och utvecklingsprojekt i Sibbo kommum 2014 2017. The aim of the project is to produce a more personcentered activity were older people and the most exposed gets an opportunity to get their voice heard in matters like development and decision making.
The study is a litterature study. The aim of the study is to encourage the elders involment in the eldery service from an personcentered perspective. The idea is to encourage good health that will improve the quality of life. A total of ten reseach articles has been used and analysed by using a content analysis. The content analysis is made using an inductive method. The inclusion criteria for the material was that the articles should be written in either swedish, finnish or english and published in the years between 2007 and 2017. The saluogenesis and a sence of coherence (SOC) was choosen for the theoretical reference. The theory consists of three parts: comprehensibility, manageability and meaningfulness. The result showed up that participative factors in the home care according to the elderly is: the nurse, the care, individualizing, autonomy, relations and attitudes. The result is also presented by a figure.
Kokoelmat