Theseusta huolletaan. Kirjautuminen on estetty ja järjestelmän uudelleenindeksoinnista johtuen arkistossa näkyy alkuun vähemmän töitä kuin siellä oikeasti on.
Menytyper i webbutiker : En kvalitativ jämförelsestudie
Jaukkuri, Jonas (2018)
---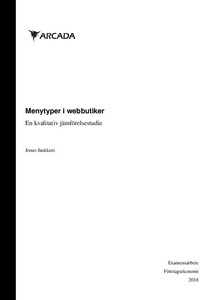 Yrkeshögskolan Arcada
2018
All rights reserved
Julkaisun pysyvä osoite on
http://urn.fi/URN:NBN:fi:amk-2018121221096
Tiivistelmä
Detta arbete behandlar menyers användbarhet i webbutiker. Då en användare vill utforska utbudet i en webbutik använder hen antagligen navigationen och menyn på webbsidan. En målmedveten användare skulle istället antagligen använda sökfunktionen. Syftet med examensarbetet är att undersöka och jämföra menyer som används i webbutiker och hitta en meny vilken användarna föredrar. Eftersom det finns flera olika menytyper och variationer på dessa så stävar detta arbete efter att underlätta valet av menytyp för webbutiker. Denna undersökning mäter inte hur kategoriseringen påverkar användbarheten. Skillnader i placeringen av menyn på webbsidan och dess effekter på användbarhet mäts ej. Undersökningen utförs endast på dator, det vill säga mobila plattformar undersöks ej. Jämförelsetestet är en form av användbarhetstest vilket används i detta arbete. I samband med jämförelsetestet används think aloud -metoden. Efter testet intervjuas respondenterna i en semi-strukturerad intervju. Respondenterna i undersökningen väljs med bekvämlighetsurval. 13 respondenter används och de är inte representativa för populationen. Teorin baserar sig på artiklar och litteratur utformade av användbarhetsexperter som Nielsen Norman Group och Rubin, Jeff & Chisnell, Dana. Teorin undersöker och förklarar grundläggande termer och koncept som användbarhet. Efter detta undersökes menytyper varefter de irrelevanta menytyperna som hamburger menyn förkastas. De relevanta menyerna som den lineära menyn och den rektangulära menyn jämförs med varandra i användbarhetstestet. Ett pilottest utförs för att hitta potentiella problem i uppgifterna som ges till respondenterna samt i intervjuguiden. Resultaten av användbarhetstestet är klara, majoriteten av respondenterna föredrar den lineära menyn och en minoritet föredrar rektangulära menyn. Respondenterna beskriver lineära menyn som lätt och smidig. Den rektangulära menyn får kritik på grund av storleken och mängden innehåll vilket respondenterna ser som delvis problematiskt. På basen av dessa resultat rekommenderas den lineära menyn. Den rektangulära menyn kan också användas med endast då webbutiken har en stor mängd kategorier på flera nivåer.
This thesis project addresses usability of menus in web shops. When a user wants to explore the range of offerings in a web shop, they will probably make use of the navigation and menus available on the website. A goal-oriented user would probably use the search function. The purpose of this thesis project is to examine and compare menus that are used in web shops to find a menu end users prefer. Due to the existence of a wide range of menu types and variations on these, this study aims to ease the choice of menu types for web shops. This examination does not take into consideration how categorisation affects usability, nor how the placement of the menu affects usability. This study will only be executed on a desktop computer and therefore mobile platforms are not considered. The comparison test is a form of usability testing which will be used in this thesis project. The think aloud method will be used in conjunction with the comparison test and there after the test subjects will be interviewed in a semi-structured interview. The subjects are chosen with the convenience sample method and are therefore not representative for the population. The theory is based on the works of usability experts such as Norman Nielsen Group and Rubin, Jeff & Chisnell, Dana. The theoretical part of this examination investigates and explains fundamental terms and concepts like usability after which irrelevant menus like the hamburger menu are discarded. The relevant menus such as the linear and rectangular menus are compared with each other in the usability test. A pilot test is executed to find potential issues in the interview questions and missions given to the test subjects. The results from the usability test are clear, most users prefer the linear menu and a minority prefers the rectangular menu. The test subjects describe the linear menu as clear and easy. The rectangular menu gets criticised due to the large size of the menu, which the test subjects see as partially problematic. Based on the results of this examination the linear menu is recommended unless the web shop has many categories on several levels in which case the rectangular menu is recommended.
Kokoelmat