24 timmars arbetspass eller tvåskiftpass – en jämförelse av arbetspassens längd inom prehospital akutvård
Eklund, Marko (2018)
---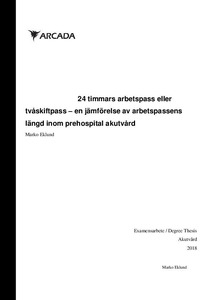 Yrkeshögskolan Arcada
2018
All rights reserved
Julkaisun pysyvä osoite on
https://urn.fi/URN:NBN:fi:amk-2018121321474
Tiivistelmä
Studien är en systematisk litteraturöversikt i vilken patientsäkerhet och arbetstagarens välmående och säkerhet i relation till arbetspasslängd undersöks. Studien är en del av yrkeshögskolan Arcadas Grow-projekt.
Studiens frågeställningar är:
1. På vilket sätt påverkas patientsäkerheten i relation till arbetspassens längd?
2. På vilket sätt påverkas arbetssäkerhet och välmående i relation till arbetspassens längd?
I studien inkluderades 14 förhandsgranskade artiklar. Metoden som använts för studien uppfyller kriterierna för vetenskaplig forskning och är etiskt hållbar. Analyseringen av artiklarna skedde deduktivt genom användning av ett deduktivt tolkningsmönster. Från det deduktiva tolkningsmönstret användes fyra kategorier; 1. Processer och arbetsmetod 2. Dokumentering och informationsflöde 3. Prestationsförmåga och kunskap 4. Patient och anhörig. Med hjälp av kategorierna analyserades artiklarna. Resultaten visar att pati-entsäkerheten påverkas av arbetspasslängden. Trots att arbetstagaren verkar må bättre både fysiskt och psykiskt i längre pass medger arbetstagarna själva att patientvården li-der då arbetstagarna gör längre arbetspass. Övriga forskningsresultat stöder detta. Slut-satser kan dock inte dras eftersom resultaten är endast en översikt av artiklarna. Artik-larnas trovärdighet och metod presenteras inte resultatredovisningen. I studien användes inte enbart yrkesrelaterade resultat inom akutvården. På grund av den yrkesmässiga mångfalden kan resultaten innehålla missvisande resultat i relation till akutvården. Artik-larna som inkluderades var skrivna mellan åren 2012 och 2018 och relevant data som kunde påverka denna studies resultat kan finnas utanför dessa årtal. Studien rekom-menderas inte som bas för fortsatt forskning utan studien visar främst att det finns be-hov för, eller att den väcker nyfikenhet för fortsatt forskning inom ämnesområdet.
The study is a systematic literature review where different shift length is compared and how the shift length is related to patient's safety, workers wellbeing and safety. The study is a part of Arcada university of applied sciences Grow-project. The study aimed to answer the following research questions:
1. How does the length of a work shift relate to patient´s safety?
2. How does the length of a work shift relate to workers wellbeing and safety?
In the study were included 14 peer reviewed articles. The method that was used fulfils the standards for a scientific research and is ethically sustainable. The analysing of the articles was done deductive by using a deductive interpretation pattern. From the deduc-tive interpretation pattern four categories was used; 1. Processes and working method 2. Documentation and information flow 3. Performance and knowledge 4. Patient and rela-tives. These categories helped analyse the articles. Results show that the patients' safety is related to the length of a work shift. Even though the workers seem to have a better phys-ical and mental health in longer shifts they admit themselves that the patient's safety suf-fers in longer shifts. Other research result supports this. Conclusions can´t be made be-cause the results are only an overview of the articles. Articles credibility and their method doesn´t show in the result presentation. The study used results from different kinds of professions, not only results related to paramedics. Because of the diversity in professions there can be misguiding results related to prehospital emergency care. The included arti-cles were written between 2012-2018 and relevant data that could have affect the results in this study might been found outside these periods of years. This study is not recom-mended to use as a base for further research, it mainly shows that there is a need for fur-ther research and is meant to arouse interest and curiosity for this topic.
Kokoelmat