The Reseach on ticket-sales of Guangzhou Evergrande Taobao FC
Zhong, Junjie; He, Mingyan (2018)
---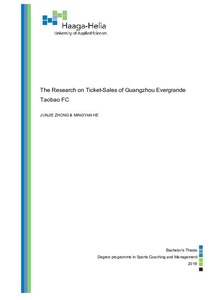 Zhong, Junjie
He, Mingyan
Haaga-Helia ammattikorkeakoulu
2018
All rights reserved
Julkaisun pysyvä osoite on
http://urn.fi/URN:NBN:fi:amk-2018123122951
Tiivistelmä
Thepurposeof our thesisistoanalyze thereasonsfor thesuccessof ticket-salesof GuangzhouEvergrande TaobaoFC.Thefootball ticket-salesin China superleaguehave alwaysbeen apain point in China's sportsindustry, manyclubsfail topayattention. However,Guangzhou EvergrandeTaobaoFC has agreat succeedin their ticket-sales withamount 80percentattendanceper game(official datareport of theChina Super Leaguein 2015),theCSL standsalone in its dismal ticket-sales.
Intheentirethesis, we used avariety ofanalysis methods, suchasdatacollection, questionnairesurveyand SWOT,for theoverall analysis of theclub. Inaddition, wealso analyzed the interna lfactors that may affect the football ticket-salesof the club.
After analysis, we came to the conclusion that Guangzhou Evergrande Taobao football club did not use toom any commercial means in the ticket-sales, it was able to get such a good ticket-salesperformanceis largely because of their loyal fans and good record.
GuangzhouEvergrande Taobaoticketssales of footballclub so successful,is the driving force behind their loyalty and large number of fans, and fans are their performance in recent years due to so good to get,if they can do more business in ticket-sales means or change some possible factors affecting ticket-sales,so the irticket-sales could be more wonderful. Therefore,the further study of ticket-sales is needed.
Kokoelmat