Working life-orientated professional master's degree as a way of providing continuing education for adult learners
Silvennoinen, Piia (2018)
---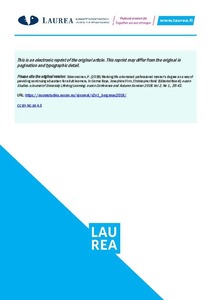 eucen Electronic Press
2018
Julkaisun pysyvä osoite on
http://urn.fi/URN:NBN:fi:amk-201901081122
Lähdeviite:
Silvennoinen P., (2018). Working life-orientated professional master's degree as a way of providing continuing education for adult learners. , eucen Electronic Press.
URN:NBN:fi:amk-201901081122
Tiivistelmä
The ongoing health and social care reform in Finland calls for the renewal and updating of the professional skills and competencies of its professionals. One of the central principles of the reform is the reorganization and provision of social and health care services in a clientorientated manner. Thus, there arises the need to be able to learn and possess clientcentered counselling skills. This article describes the main results of the teaching experiment carried out with 16 professional Master's degree students during the spring of 2017. The students participated in a course, the aim of which was to learn and become familiar with the method of motivational interviewing by using simulation pedagogy. The aim of the course was to provide the students with the client centered counselling skills needed for interacting with clients and patients. The data was collected in two focus group interviews, each group consisting of eight students. The data was analyzed using a theory-related content analysis.

The results show that simulation pedagogy is suitable for studying motivational interviewing since it allows for a shared learning experience and reflection for students from various backgrounds in working life (Silvennoinen & Juujärvi, 2018). It can be argued that the Finnish professional Master's degrees are well-suited for updating the professional skills and competencies needed in working life. The Finnish professional Master's degree is a working life-orientated degree and its purpose is to respond to the competence requirements of working life. Moreover, the Finnish professional Master's degree has a more pragmatic and working life-orientated profile than the academic Master's degree. In conclusion, it can be stated that the professional Master's degree acts as an important tool for lifelong learning while providing excellent continuing education for adult learners.
Kokoelmat