Produktförpackningens visuella identitet - Från idé till konsument Case Hakki Design
Högström, Emma (2018)
---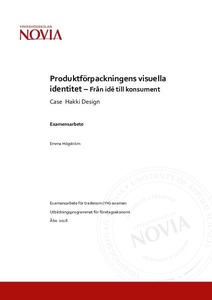 Yrkeshögskolan Novia
2018
All rights reserved
Julkaisun pysyvä osoite on
http://urn.fi/URN:NBN:fi:amk-201901111212
Tiivistelmä
Har du någon gång tänkt på kopplingen mellan förpackningen och konsumentens köpbeteende? Eller hur förpackningens designprocess ser ut? Vad påverkar oss när vi går in i butiken och köper produkter? Och hur påverkar våra inköp ett varumärke? I detta arbete kommer jag att gå igenom hur kopplingen ser ut mellan förpackningsdesign, varumärke och konsumentbeteende. Det finns vissa faktorer som påverkar konsumentens köpbeslut längs vägen.
Syftet med detta arbete är att komma fram till vad som gör en produktförpackning lockande för Camilla Hagstén. För att förpackningen skall klara sig i konkurrensen på marknaden behöver den ett starkt varumärke att stå bakom.
Metoderna jag kommer att använda mig av i arbetet är kvalitativa med en kombination av fenomenologisk studie, i form av en intervju med Camilla Hagstén.
För att testa på detta i praktiken kommer jag att koppla teorin med Hakki Design och hjälpa företaget att komma fram med en ny visuell identitet till sina produktförpackningar via olika moodboards. Hakki Design är ett litet företag från Åbo som tillverkar smycken av överblivet trä från träverkstäder och de använder sig av naturliga råvaror. (Hagstén, 2018)
Efter den tredelade teorihelheten fortsätter arbetet till resultatet. Resultatet blev att jag designade fem olika moodboard-förslag till Camilla Hagstén. Moodboarden kommer att användas som en bas till Hakki Designs nya produktförpackningar.
Have you ever thought about the connection between the packaging and the consumer´s buying behavior? What does the packaging design process look like? What affects us when we go to a store and buy our products? How does our purchase decision affect a brand? In this work I will review the connection between packaging design, brand and consumer behavior. There are certain factors that affect the consumer´s purchase decisions along the way.
The purpose of this work is to find the things that makes a product packaging attractive to Camilla Hagstén. In order for the packaging to succeed in the competitive market field, it needs a strong brand to stand behind.
The methods I use in the work are qualitative with a combination of phenomenological studies, in the form of an interview with Camilla Hagstén.
To test this in practice, I will link all the theory with Hakki Design and help the entrepreneur with a new visual identity for her product packaging through different moodboards. Hakki Design is a small company in Turku, which manufactures jewelry from leftover wood and uses natural raw materials.
After the theory, the work continues to the result. As a result, I designed five different moodboard suggestions for Camilla Hagstén. The moodboards will be used as a base for Hakki Designs new product packaging.
Kokoelmat