Skapandet av en lönsam affärsplan inom modebranschen
Guuleed, Maryan (2010)
---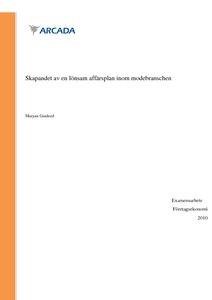 Arcada - Nylands svenska yrkeshögskola
2010
Julkaisun pysyvä osoite on
http://urn.fi/URN:NBN:fi:amk-2010060611559
Tiivistelmä
Sammandrag:
Syftet med detta arbete var att grunda ett nytt företag och att därefter förverkliga planen för en fungerande lönsam verksamhet inom klädesbranschen. Affärsplanen ska fungera som styrmedel för det nya företaget La Mary Mode Oy. Problemet var att både kunskap och affärsplan saknades.
Målen var att skapa en klar struktur och strategi för verksamheten, och därmed uppnå de uppsatta målen.
Affärsplanen ger struktur åt företaget och den fungerar även som ett hjälpmedel. Arbetet är indelat i tre olika delar, den första delen kommer att behandla vad som bör finnas i en lönsam affärsplan på en allmän nivå. Denna del baserar sig på litteraturen "Affärsplanen, praktisk handledning för affärsplanerare". Den andra delen är en empirisk uppläggning av företaget La Mary Mode Oy: s egna affärsplan, baserad på den ovannämnda teoridelen.
Den tredje delen är diskussion och motiveringar val av verksamhet till. Alla tre delar följer samma struktur som finns i litteraturen "Affärsplanen – praktisk handledning för affärsplanerare" som är skriven av Eliasson & Kolár. Arbetet är lika strukturerat som litteraturen och det är lätt att följa hur teori förvandlas till en verklig affärsplan och affärsplanen görs överhuvudtaget.
The Purpose of this work was to create a profitable business plan and after that to transfer the plan to the function company in fashion industry. The business plan will work as lead of instrument for the new company La Mary Mode. The problem was luck of knowledge and un existed business plan.
The goals were to create a clear structure and strategy to the business and after that to achieve the planned goals. Business plan can be considers as help document for the com-pany's goals, and strategic. With a business plan were goals clarified. Case studies were used as methods, theories were taken from the literature Affärsplanen – prakti-ska handledning för affärsplanerare" which is given by Eliasson & Kolár.
The work is divide into tree deferent parties, the first part is treated what it should in-cluded in one profitable business plane on common level. The theory were taken from the litterer " affärsplanen, praktiska handledning för affärsplanerare ". Second was La Mary Modes own business plane which is based on up mentioned theory.
This party were case study. The third party is discussion and motivations of the activities chose. All the tree parties is following same structures as litterer" Affärsplanen – praktisk handledning för affärsplanerare". The work is same structured and quite simple to follow how the theory is transforming to real business plane and why business plan needs. The theory was completed with field study.
Kokoelmat