Brexit - Stories behind the statistics
Ahson, Kemal; Mäkelä, Paula; Siponen, Janne; Toikka, Mette; Valajärvi, Julia; Öhman, Henrik; Kuhmonen, Annemari; Seppä-Kortelainen, Sini (2019)
---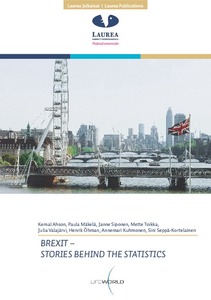 Ahson, Kemal
Mäkelä, Paula
Siponen, Janne
Toikka, Mette
Valajärvi, Julia
Öhman, Henrik
Kuhmonen, Annemari
Seppä-Kortelainen, Sini
Laurea-ammattikorkeakoulu
2019
Julkaisun pysyvä osoite on
https://urn.fi/URN:ISBN:978-951-799-511-5
Tiivistelmä
This research report introduces increased knowledge about the Brexit and its possible effects on knowledge transfer, finances and staff of educational institutions , as well as its impact on the educational relations between Finland and the UK.
The report has been produced by Laurea Hyvinkää campus business students as a part of their project studies. The project was led by Dr Kemal Ahson from a London-based Consultancy Company Lifeworld Ltd, who also acted as a coach and mentor for the students.
Even if it is difficult to estimate the impact of the UK's decision to leave the EU for educational institutions, since there are several open issues at the time of writing this report, a number of recommendations can be drawn from the data and analysis. These can be divided into short-term and long-term actions. The report will facilitate educational institutions to be better prepared for the Brexit in a way that makes the continuous cooperation between the Finnish and British educational institutions possible.
Kokoelmat