What is a multisensory tent? Developing multisensory method and new learning environments
Räty, Minttu; Kivilehto, Sari; Malin, Anne (2015)
---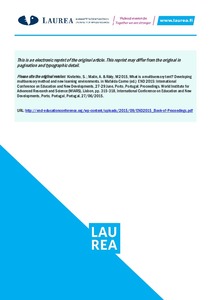 Räty, Minttu
Kivilehto, Sari
Malin, Anne
Editoija
Carmo, Mafalda
World Institute for Advanced Research and Science
2015
Julkaisun pysyvä osoite on
http://urn.fi/URN:NBN:fi:amk-201903143104
Lähdeviite:
Räty M., Kivilehto S., Malin A., (2015). What is a multisensory tent? Developing multisensory method and new learning environments. Carmo M. (Ed).,
END 2015: International Conference on Education and New Developments, 27-29 June, Porto, Portugal: Proceedings
., World Institute for Advanced Research and Science.
Tiivistelmä
The aim of this research project is to develop a multisensory method and new learning environments. The central element of the project is an easily adaptable multisensory tent which is a space that gives experiences to different senses. The interior of the tent could contain sounds, smells, tastes and different items that lead users of the space to experience different atmospheres and feelings. Building a tent generates a material artifact but the process of planning and building a tent is also important. The building process encourages students to communicate and interact with one another and activates their learning. Researching the multisensory method has been a developmental process in which new approaches to and uses for the multisensory method have been created. This study describes three pilot studies which were carried out during 2013 and 2014. Data has been collected by interviewing the students and partners who took part in these pilot studies.

In Kivilehto´s pilot study the aim was to enhance creative problem solving of students by building multisensory tents. Multisensory tent was a learning environment where students were able to practice new ways of creative and critical thinking by using a tent as a tool for learning. The results pointed out that building of the tents forced the students to innovative thinking processes and common knowledge building. In Malin´s pilot study the aim was to create a physical learning environment by building a multisensory tent to an open learning environment in a museum. Students interacted with each other, with the visitors of the museum and with the physical environment. The results showed that acting in an open learning environment and meeting the visitors opened up new learning experiences and processes. In Räty´s pilot study the aim was to create multisensory tents as a means of multicultural education that works as a promoter of interaction of different groups and as a tool for identity negotiations. Multisensory method enables students, immigrants and different partners of working life create a process that enhances the interaction between different cultures. The results showed that understanding between the cultures increased during the common processes.
Kokoelmat