Facilitating the transition from vet to higher education through the "study path"
Tani, Petri; Komulainen, Kati; Eloranta, Tuija; Gustafsson, Sari; Ylikoski, Teemu (2015)
---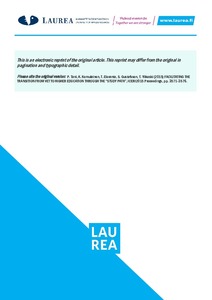 Tani, Petri
Komulainen, Kati
Eloranta, Tuija
Gustafsson, Sari
Ylikoski, Teemu
International Academy of Technology, Education and Development
2015
Julkaisun pysyvä osoite on
http://urn.fi/URN:NBN:fi:amk-201903143112
Tiivistelmä
The need to reduce the length of studies is a current topic in both secondary vocational education and higher education in Finland. One opportunity for streamlining and speeding up the transition to university studies are "study paths". Outlined by the Finnish Ministry of Education and Ministry of Culture in the operational and financial plan for 2016 – 2019, study paths aim to shorten the overall duration of studies and thereby accelerate the transition from higher education to working life. Prolonged studies in higher education have been a target for renovation since 2003. However, study paths between vocational qualifications and higher education, particularly polytechnic studies, have only recently been enacted. This is possible in the Finnish educational system, where successful completion of secondary vocational studies affords eligibility for higher education. While transition between these two levels is already operational, Finland wants to strengthen and streamline it further with student career guidance. The objective is to form smooth study paths and thus shorten the duration of studies. Laurea University of Applied Sciences has launched a study path pilot project in the fall of 2014 with two vocational schools, where the aim is to build a "speedway" from vocational education and training to higher education. This takes place through integrating higher education and vocational studies. Studies offered by the polytechnic are made available to the VET students. Should a student want to apply for further education, these studies are eligible for the HE degree as well. Study paths also allow VET students getting to know higher education. From a regional perspective, they also strengthen the presence and impact of Laurea University of Applied Sciences and its co-educational market position, so as to offer higher education opportunities in a greater region, meet the emerging needs of higher education and network with educational institutions in the region. Interest in the study path has been great and the aim is to open study paths for each of Laurea's education programs. It is essential that the study path education offered takes place through non-binding studies. During the pilot project, two VETs, Porvoo Point College and Porvoo Vocational College, Amisto, have been the trailblazers for cooperation in health care studies. In 2016, Laurea's path studies are expanding to beauty care, correctional sector, business economics, the security industry, as well as data processing. The vision is that around 100 students will enter Laurea through this path every year. In the pilot stage, Laurea has chosen only certain study programs. In the cross-professional future, flexible an adaptable training is important for building a foundation for society-changing expertise. Thus, it would be natural that the students could choose a study path in accordance with their own needs and interests, which would not only deepen their skills, but also expand their professional skills over educational sectors. This, however, requires guidance to assist the VET student with the opportunities and choices along the path of study opportunities. In the future, course offerings will need to expand in the supporting study skills so that more VET students can be offered the skills needed in HE.
Kokoelmat