Equity Market Risk Premium in Finland 2017
Värä, Aleksei (2018)
---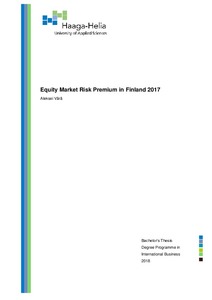 2018
Kaikki oikeudet pidätetään
Julkaisun pysyvä osoite on
https://urn.fi/URN:NBN:fi:amk-201903243707
Tiivistelmä
This thesis is about Equity Market Risk Premium (EMRP) in Finland 2017 done in collabora-tion with PwC Finland. The main question was about the current estimate of EMRP in Finland 2017. Investigative questions were about the way respondents arrive to certain EMRP estimates and how has the EMRP changed in Finland compared to previous years. And finally, of course, recommendations.

The questions were answered mainly through primary survey conducted by the author of the thesis in collaboration with PwC Finland and the respondent companies and universities. Also, analysis and comparison to similar surveys from other countries was conducted.

The respondents' estimate of the average EMRP for Finland by the end of 2017 was 5,7%. The answer to how do the respondents arrive to a certain EMRP figure was not answered by everyone. Those who did answer, mentioned observing different academic, consulting and market research studies. Some mentioned using historical data and calculations by them-selves. For risk-free rates, which is also an important component of the EMRP calculation, most of the respondents mention government bonds, which are used as risk-free rates around the world.
Finally, how has the EMRP of Finland in 2017 changed compared to previous years? Based on earlier PwC studies on EMRP in Finland, the variation has been between 4,63% and 6,40%. In 2015 the EMRP was 5,78%, which is quite the same as it is in 2017, but before that, in 2012 it was 6,00%, which is second highest EMRP recorded by PwC in Finland through 1999 to 2017.
Kokoelmat