"Låt barnens språk mogna" : - En kvalitativ undersökning om daghems arbetssätt med barns språk
Nyman, Petra; Byman, Maria (2010)
---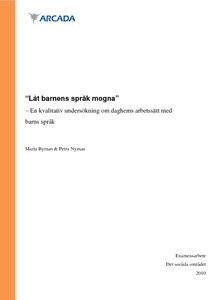 Nyman, Petra
Byman, Maria
Arcada - Nylands svenska yrkeshögskola
2010
All rights reserved
Julkaisun pysyvä osoite on
http://urn.fi/URN:NBN:fi:amk-2010061612259
Tiivistelmä
Detta examensarbete undersöker barnträdgårdslärares arbetssätt angående barns språk. Syftet med arbetet är att ta reda på hur daghemspersonalen (barnträdgårdslärare) jobbar för att stöda och stimulera barns språkliga utveckling samt vilka arbetsmetoder används för detta ändamål. Syftet har även varit att ta reda på om kommunens läroplan för daghemmen angående språk och kommunikation används på det sätt som avsetts. Teorin som vi använt oss av behandlar språkstimulans, uppväxtmiljöns betydelse för språket och olika metoder i arbetet med barns språk. Vi har även använt oss av den kommunala läroplanen för Esbo svenska dagvård (2009) samt av Grunderna för planen för småbarnsfostran (2005). Frågeställningarna som vi arbetat utgående ifrån är; Hur ser språkarbetet ut på daghemmen? Vilka arbetsmetoder använder sig daghemspersonalen av för att utveckla barnets språk? Följer daghemspersonalen kommunens läroplan för daghemmen gällande språk och kommunikation? Som datainsamlingsmetod har vi använt oss av den öppna intervjun, som varit delvis strukturerad, och vi har intervjuat sex personer i personalen inom Esbo svenska dagvård. En del av den intervjuade personalen arbetar som obehöriga barnträdgårdslärare och en del som behöriga. Våra intervjufrågor är utarbetade från kommunens läroplan, kapitlet om språk och kommunikation. Resultaten i undersökningen visar att personalen arbetar på ett stödande och stimulerande sätt med barns språk. Deras arbetssätt motsvarar till en stor del det som personalen enligt kommunens läroplan uppmanas att göra. Storyline, som är ett begrepp som man stöter på i läroplanen, var ett obekant begrepp för de flesta av informanterna. De som kände igen begreppet kunde inte ge en tydlig förklaring på dess mening.
This thesis examines kindergarten teachers working on children's language. The aim with
this work is to find out how the nursery personnel (kindergarten teachers) are working to
support and stimulate children's linguistic development and the working methods used for
this purpose. We also wanted to find out if the municipality's curriculum for the daycare
centers, concerning language and communication, is used in the manner intended. The
theory that we used deals with language stimulation, the significance of childhood environment
to the language and working methods with children's language. We have also
used the municipal curriculum for the daycare centers (Läroplan för dagvården, 2009)
and The National Curriculum Guidelines on Early Childhood Education and Care in Finland
(2005). The questions we worked from are; How does the work with language function
on the daycare centers? Which methods are used by the nursery personnel to develop
children's language? Do daycare personnel follow the municipal curriculum for daycare
centers (Läroplan för dagvården, 2009) concerning language and communication? As data
collection method, we used open interviews, which were partially structured and we
have interviewed six people from the personnel in Espoo Swedish daycare. Some of the
interviewed personnel work as unauthorized kindergarten teacher and some as authorized.
Our interview questions are developed from the municipality's curriculum, the chapter of
language and communication. The results of the survey show that the personnel work in a
supportive and stimulating way with children's language. Their working methods corresponds
to a large extent what the personnel is requested to do according to the municipality's
curriculum. Storyline, which is a term used in the curriculum, was an unfamiliar concept
to most of the informants. Those who knew the concept could not give a clear explanation
of its meaning.
Kokoelmat