Resource Planning Tool for Nonconformity Projects at Wärtsilä
Rex, Alexander (2019)
---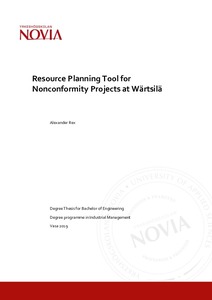 2019
All rights reserved. This publication is copyrighted. You may download, display and print it for Your own personal use. Commercial use is prohibited.
Julkaisun pysyvä osoite on
http://urn.fi/URN:NBN:fi:amk-201904286249
Tiivistelmä
The thesis presents the development of a Resource Planning Tool that will be used for non-conformity projects for the Customer Assistance department at Wärtsilä. Nonconformity projects are service-related projects that handle products with quality defects. The purpose of the tool is to collect project data and improve future project handling. The task is to create a tool in which it is possible to create an overview per project in which booked resources can be inserted. The result should give the user a good overview of the time schedule, but also to get a better understanding why different delays occur. There has been a demand for this type of tool for some time, but there has not been any successful implementation yet.
A type of dynamic chart will also be created, in where the users can choose to see how many bookings are actually successful and how many that are not. Also, reasons for why they were not successful should be displayed. A well-made and implemented tool could build a better connection between Customer Assistance and Field Services at Wärtsilä.
The result of this tool was an Excel-tool that fulfilled the purpose and requirements of this thesis. The development resulted in a functional tool that can be used for projects in the Customer Assistance department. Projects can be customized, bookings can be added and statuses for these bookings can be inserted. On the home page a functional chart displays the data the user chooses to display.
Detta examensarbete presenterar utvecklingen av ett resursplaneringsverktyg som kommer att användas för projekt angående kvalitetsdefekter vid Wärtsilä. Syftet med verktyget är att samla all projektdata och förbättra framtida projekthantering. Uppgiften var att skapa ett verktyg i vilket det är möjligt att skapa en överblick per projekt där bokade resurser kan insättas. Verktyget skall ge användaren en bra överblick över tidsschemat, men även en bättre förståelse över varför olika förseningar uppstår. Det har funnits ett behov av denna typ av verktyg för en tid, men det har ännu inte gjorts en lyckad implementering av ett verktyg av denna typ. En typ av dynamisk graf kommer också att skapas, i vilken användare kan välja att se hur många av bokningarna som påbörjas i tid och hur många som inte påbörjas i tid. Även orsaker över varför bokningar inte påbörjas i tid skall synas. Ett välgjort verktyg kan bygga ett bättre samarbete mellan Customer Assistance och Field Services vid Wärtsilä.
Resultatet av detta verktyg blev ett Excel-verktyg som uppföljde syftet och kraven för detta arbete. Utvecklingen resulterade i ett funktionellt verktyg som kan användas för projekthantering vid Customer Assistance. Projekt kan skräddarsys, bokningar och olika statusar kan läggas till. På första sidan av verktyget syns en graf som visar det data som användaren väljer att se.
Kokoelmat