Interdisciplinary Studies Journal
---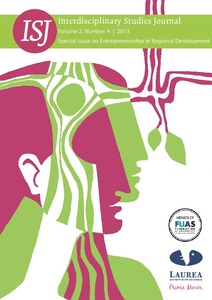 Editoija
Rantanen, Teemu
Pietrzykowski, Maciej
Laurea-ammattikorkeakoulu
2013
Julkaisun pysyvä osoite on
http://urn.fi/URN:NBN:fi:amk-201904306953
Lähdeviite:
Rantanen T., Pietrzykowski M. (Eds.)., (2013). Interdisciplinary Studies Journal. , In: Special Issue on Entrepreneurship in Regional Development, Laurea-ammattikorkeakoulu.

Tiivistelmä
Interdisciplinary Studies Journal. Special issue on Entrepreneurship in Regional Development. Vol. 2, No 4, 2013.

The current trend in globalization is characterized by both broader global interconnection and deeper localization. To shape the effective development strategy it is crucial to integrate these two trends together with putting an emphasis on entrepreneurship and the process of shaping entrepreneurial attitudes in the society. Entrepreneurship has become a significant factor in socio-economic development. Entrepreneurs create new jobs, introduce innovation onto the market, accelerate the pace of structural and institutional changes, and through increasing the importance of competition influence the productivity and consequently also the competitiveness of an economy. Small entrepreneurial companies take on new importance and value in a knowledge based economy. In next waves of Corporate Downsizing throughout Europe and North America, large corporations had to dislocate their production in low cost countries to maintain their competitiveness. This means that in new era regional - specific factors shape entrepreneurship which has a crucial impact on economic performance.

A theme of this special issue is Entrepreneurship in Regional Development. The purpose is to describe and analyze entrepreneurship in the regional context from different perspectives. In this publication, regional development is treated as a multidimensional phenomenon. Though competitiveness and economic growth are important; issues such as territorial cohesion, education and social services, also have a key role to play in regional development. The impact of entrepreneurship in a region can thus be seen as a complex issue.

A major basis for this publication is the theme year of the European Entrepreneurial Region in 2012. The central priorities of the year were to promote entrepreneurial activities and to encourage young people in entrepreneurship. The theme year emphasizes the meaning of business at a regional level. It also highlights the importance of examining the significance of entrepreneurship from a regional perspective.

One of the key premises is the need to collate points of view, which combine regional development, business and social science perspectives. The multidisciplinary approach has proved to be a rewarding starting point, when we analyze entrepreneurship and its significance. This special issue contains articles which are based on the perspectives of economics, social policy and social psychology. Aspects of the papers vary from entrepreneur education to innovation and welfare policy, from the analysis of a single area to extensive regional comparisons. The point of view of the publication is scientific, but an important objective of the articles is to also stimulate political and practical debate.

The first topic of the issue is related to regional comparison. Professor Aleksandra Gawel examines innovation as a factor in regional development in Poland. Her results show that expenditure on research and development activities has a significant influence on the level of regional development. The study of Professor Marina Dabić, Dr. Maja Bašić and Dr. Davor Vlajčić looks at entrepreneurship in Croatia. The review examines differences in the development of various Croatian regions.

The second topic is the entrepreneurial orientation of young people. Two articles examine Finnish students' entrepreneurship. Dr. Teemu Rantanen looks at entrepreneurial intention amongst young people in Uusimaa, and considers the development of entrepreneurship education. Dr. Vesa Taatila examines entrepreneurial orientation among University of Applied Sciences students, the factors which affect it, and proposes some practical implications. Professors Barbara Jankowska and Maciej Pietrzykowski consider the pre-entrepreneurial attitudes of students in Poland. Their analysis is based on the international comparison of five countries, and shows areas for development in Polish entrepreneurial education.

The third topic of this issue is social entrepreneurship. Dr. Timo Toikko examines social enterprises within the triangle of the public, private and third sectors in Finnish society. Using a time series, he analyzes the production of social care services, and shows how the role of the various sectors has changed during recent decades.

All authors are well recognized specialist on their topics. The interdisciplinary approach contained in this book delivers an impressive set of insights for regional policy that will be of great value to both academics and policy makers dealing with regional economics, economic geography, international trade, as well as entrepreneurship and innovation policy.
Kokoelmat