Returlogistik : Returlogistik och returhantering idag
Wenman, Mattias (2010)
---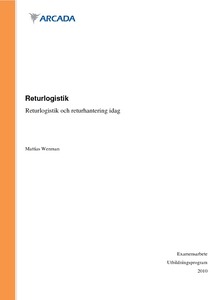 Arcada - Nylands svenska yrkeshögskola
2010
All rights reserved
Julkaisun pysyvä osoite on
http://urn.fi/URN:NBN:fi:amk-2010062112436
Tiivistelmä
Examensarbetet har som mål att introducera begreppet returlogistik för läsaren och redogöra över de delar som utgör returhanteringen. Arbetet har också som målsättning att
visa på de fördelar som ett företag kan nå genom en effektiv returlogistik.
Inom litteraturen kring logistik har returlogistiken länge haft en undanskymd roll. Detta har medfört att kunskapen om returlogistik fortfarande är väldigt bristfällig. Allt fler
företag börjar dock intressera sig för de möjligheter som en effektiv returlogistik kan medföra. Bland de företag som varit först med att utveckla sin returhantering hittar man
inom branscher var värdet på returerna är höga. Exempel på en sådan är elektronikbranschen. I takt med att elektronikprodukternas livscykel har krympt har även betydelsen för att snabbt kunna ta tillvara de returnerade produkterna ökat. Under de senaste åren har även möjligheterna att återanvända uttjänta elektronikdelar ökat. Detta har tvingat företagen till att utveckla program för att förhindra andra företag kommer åt returerna.
Med hjälp av en kvalitativ fallstudie visar examensarbetet vad returlogistiken innebär för ett företag inom elektronikbranschen och hur det påverkar deras arbete. Genom att placera in företaget i en nätverksmodell visar examensarbetet på vilka aktörer som är involverade i hanteringen av returerna samt vilka aktiviteter som utförs och med hjälp av vilka resurser.
The thesis aims to introduce the concept of reverse logistics for the reader and describe
the elements making up the return handling. The work also aims to demonstrate the benefits
that a company can achieve through an effective reverse logistics.
In the literature on logistics, reverse logistics have long had a modest role. This has led to
that the knowledge of reverse logistics is still very poor. More and more companies are
starting to become interested in the opportunities that effective reverse logistics can bring.
Among the companies that pioneered the development of returns management most of
them can be found in industries where the value of return are high. One such example is
the electronics industry. As the electronics product lifecycle has been shrinking, the importance
to quickly take advantage of the returned products has increased. In recent years
the possibility to reuse discarded electronics parts has increased. As a result of this, companies
have been forced to develop programs for collecting their discarded products to
prevent other companies from gaining access to them.
Using a qualitative case study the thesis demonstrates what reverse logistics means for a
company in the electronics industry and how it affects their work. By placing the company
into a network model the thesis demonstrates the actors involved in the handling of
returns, and which activities are carried out and what resources are used.
Kokoelmat