Beskattning av nya bilar
Tapio, Simon (2019)
---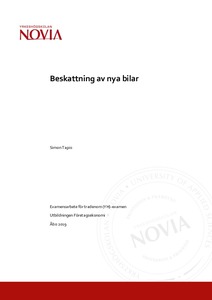 2019
All rights reserved. This publication is copyrighted. You may download, display and print it for Your own personal use. Commercial use is prohibited.
Julkaisun pysyvä osoite on
http://urn.fi/URN:NBN:fi:amk-201905098623
Tiivistelmä
Den 1.9.2018 trädde ikraft en lagändring om bilskatt i Finland. Lagändringen förändrade mättekniken enligt vilken bilarnas koldioxidutsläpp uppmättes. Den nya mätmetoden heter WLTP. I examensarbetet undersöks hur nya bilar beskattas i Finland, vilken effekt nya testmetoden har haft och ifall det har påverkat beskattningen.
Beskattningsförfarandet är av intresse eftersom WLTP-mätmetoden ökar på bilens koldioxidutsläppsvärden på grund av att mätmetoden belastar bilen mer. Den tidigare använda NEDC-metoden gav för goda resultat och kritiserades för att inte kunna uppnå samma resultat vid verklig körning. Europeiska unionen kommer stegvis att i bruk WLTP-metoden, men Finland var ett av de första länderna som tog i bruk metoden.
Arbetet består av teori, undersökning och slutsats. Undersökningen är en kvalitativ undersökning i form av intervjuer. Arbetet innehåller tre intervjuer och är uppdelat i två delar. Den första delen innehåller en intervju med en representant från statsrådet. Intervjun representerar lagstiftarens synpunkter på lagändringen av bilskattelagen. Den andra delen av undersökningen innehåller två intervjuer med två bilaffärer. Intervjuerna sätter fokus på bilbranschen och hur den påverkades av lagändringen. Arbetet analyserar ifall lagstiftarens målsättningar har uppnåtts på bilmarknaden.
Slutsatsen i arbetet är att målsättningen med lagändringen inte uppnåtts. Istället för att köpa nya miljövänliga bilar, har konsumenterna börjat importera gamla bilar.
On the 1st of September 2018 an amendment on car taxation was adopted in Finland. The amendment was made due to a changed measurement technology, WLTP, according to which the car's emissions were measured. This thesis examines taxation on new cars in Finland and what effect is has had on taxation.
The taxation procedure is of interest because the WLTP measurement method burdens the car more and therefore, increases the car's carbon dioxide emission values. The previously used NEDC method indicated good results but failed to achieve them in real driving. The European Union will step-by-step start using the WLTP.
The thesis consists of theory, a survey and a conclusion. The survey is a qualitative study in the from of interviews. The thesis consists of three interviews, which are divided into two parts. The first part contains an interview with a representative from the Government Council. This interview represents the legislator's views on the amendment. The second part consists of two interviews with two different car dealers. Theses interviews represents the car industry and the amendment effect on them. The thesis analyzes whether the legislature's objectives have been achieved in the car market.
The conclusion is that the goals of the amendment has not had the desired effect. Instead of buying new eco-friendly cars, consumers have started importing old cars.
Kokoelmat