Radhackning mot ogräs i havre
Westerlund, Terese (2019)
---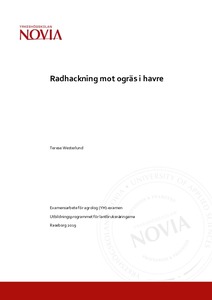 2019
Julkaisun pysyvä osoite on
http://urn.fi/URN:NBN:fi:amk-201905109092
Tiivistelmä
En återkommande odling av ettåriga grödor kräver fysikalisk eller kemisk ogräsbekämpning. Fysikaliska insatser omfattar ogräsharvning, radrensning och flamning. Radrensning i form av radhackning kan utföras i den växande grödan, utan att skada den. Radhackning medger en effektiv bekämpning av ettåriga ogräsarter och har dessutom effekt mot fleråriga arter som tistlar.
Denna studie syftade till att undersöka effekterna av radhackning med System Cameleon i vårsådd spannmål med avseende på ogräsens och grödans biomassaskördar. Undersökningen utfördes i ekologisk odlad havre där ett led såddes på 33 cm radavstånd och radhackades två gånger. Noll-ledet såddes på 12,5 cm radavstånd; ingen ogräsbekämpning utfördes i detta led. Försöksleden etablerades i form av två intill varandra belägna storrutor i ett fält på Pargas Gård i västra Nyland, Finland. Hypotesen var att radhackning ger minskad förekomst av ogräs och högre havreskörd än noll-ledet.
Havrens biomassavikt var i medeltal 4580 kg ts/ha i noll-ledet och 3829 kg ts/ha i det radhackade ledet. Ogräsets biomassavikt var i medeltal 353 kg ts/ha i noll-ledet, respektive 170 kg ts/ha i det radhackade ledet. Skillnaderna mellan noll-ledet och det radhackade ledet var signifikanta. Standardavvikelsen var ± 1330 kg/ha för havre och ± 350 kg/ha för ogräsen i noll-ledet, respektive ± 1206 kg/ha för havre och ± 283 kg/ha för ogräsen i det radhackade ledet. Det fanns fler delprover i det radhackade ledet utan ogräs än vad det fanns i noll-ledet. De mest allmänna ogräsen var kvickrot, maskros och vicker. Den geografiska belägenheten i storrutorna hade signifikant inverkan på havre- och ogräsbiomassorna.
Slutsatserna av försöket är att radhackning ger lägre ogräsbiomassa men minskar även havrens biomassa, och därmed också kärnskörden. En låg ogräsbiomassa är ändå en förutsättning för att skördenivån är stabil i längden. Möjligtvis kan skördarna ökas då radhackning utförs med ett mindre radavstånd, till exempel på 25 cm.
A recurrent cultivation of annual crops requires physical or chemical control of weeds. Physical interventions include weed harrowing, inter-row hoeing and flaming. Inter-row hoeing can be carried out in the growing crop, without damaging it. Inter-row hoeing allows effective control of annual weed species and also has an effect on perennial species such as thistles.
This study aimed to investigate the effects of inter-row hoeing with System Cameleon in spring-sown cereals with respect to weed and crop biomass harvests. Oats was sown at 33 cm and inter-row hoed twice. In the control, oats were sown at 12.5 cm row-spacing; in this plot, weed control was omitted. The experiment was conducted under regular farming conditions at Pargas Gård in western Uusimaa, Finland. Treatment and control consisted of two, eight-meter-wide and 850-meter-long areas which were situated adjacent to each other. The hypothesis was that inter-row hoeing results in a lower weed biomass and higher oats harvest, compared to the control.
The biomass harvests of oats and weeds were significantly higher in the control than in the treatment with inter-row hoeing Sampling-plots without weeds occurred more often in the inter-row hoed treatment than in the control. The most common weed species were couch grass, dandelion and vetch. The geographical location of the sampling-plots within the experimental areas had a significant impact on the biomass yields of crop and weeds, respectively.
The conclusions drawn from this experiment are that inter-row hoeing results in a lower weed biomass but also may reduce the yield of oats. A low weed biomass is still a prerequisite for the level of harvest to be stable in the long run. The crop harvest can possibly be increased when inter-row hoeing is carried out with a smaller row spacing, e.g. 25 cm.
Kokoelmat