Consumer behavior and cultural effects on taboo products
Tardy, Gauthier; Olivieri, Delphine (2010)
---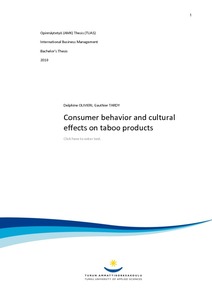 Tardy, Gauthier
Olivieri, Delphine
Turun ammattikorkeakoulu
2010
All rights reserved
Julkaisun pysyvä osoite on
http://urn.fi/URN:NBN:fi:amk-2010061512207
Tiivistelmä
The economy starts rising up since human beings live in societies and exchange different kinds of goods in order to maintain their daily life. This economy has known several steps from the creation of barter to what is known today, with financial and international markets.

In our modern and actual societies, this economy is surrounding every single citizen. They grow up with it, they work into it and thanks to that they are able to buy what they need and what they want. A lot of different companies of several sizes, national or international propose and sell items that is needed to survive (food, clothes and so on) or wishes according to people's tastes (holidays at the beach, video games and so on). Every single day, consumers are tending to buy those goods or services. The consumer behavior is affected by a lot of different factors. The aim of companies, whatever their products or services are, is to sell as many items as they can and in order to do so they will try to affect their actual and potential consumers to make them want to buy what they produce. In the past, this action was much easier that what have to be done today because before the 20th companies were above all concentrated on their national market. In our actual environment companies tend to internationalize themselves a lot to earn more power, and the impact they wish to create on consumption might become more difficult because of the different cultures earn by each different geographic region.

In this work, the consumer behavior will be at the heart of the study. This analysis will try to point out what kind of different factors can affect their final purchase decisions. In order to understand perfectly this field, the study will be reduced to three international companies which sell some products that can be seen as a taboo in several countries. The way those companies sell their products in different cultures will be analyzed as well as the way consumers see the communication campaigns of those companies. It has been found that communication policies and advertisement campaigns cannot be always the same according to the culture and the country of the consumers. Most of the times, in order to succed companies and marketers have to study very deeply the behavior of their potential foreign consumers to understand how they will react to their communication ways. In this work, the consumer approach will be valorized. What they think about companies and their strategies will be deeply studied in order to find out if companies in this specific taboo market use the good methods to attract consumption.
Kokoelmat