Vårdnadshavares attityder gentemot MPR-vaccinet och flockimmunitet: En kvalitativ undersökning om MPR-vaccinering i Österbotten, Våga prata vaccin: Ett diskussionsunderlag för hälsovårdaren på barnrådgivningen
Sten, Anna-Sara; Sundsten, Emmelie (2019)
---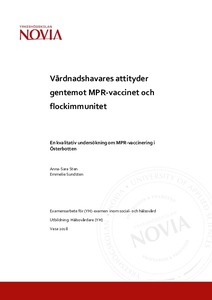 Sten, Anna-Sara
Sundsten, Emmelie
2019
All rights reserved. This publication is copyrighted. You may download, display and print it for Your own personal use. Commercial use is prohibited.
Julkaisun pysyvä osoite on
http://urn.fi/URN:NBN:fi:amk-2019051910557
Tiivistelmä
Examensarbete:
Syftet med studien är att ta reda på vilka faktorer som påverkar vårdnadshavare att antingen låta vaccinera sina barn eller att avstå MPR-vaccinet samt undersöka attityder gentemot flockimmunitet. Frågeställningarna är Vilka faktorer påverkar beslutet att vaccinera med MPR-vaccinet? Hurudant ansvar upplever vårdnadshavare att de har för att upprätthålla flockimmuniteten? Som datainsamlingsmetod har intervjuer använts. Till studien har fyra stycken informanter intervjuats, hälften vaccinförespråkare och hälften vaccinkritiker. Detta har gett en mera mångsidig syn på vilka faktorer som påverkat valet om MPR-vaccinet samt gett en bredare insikt om attityderna mot flockimmuniteten. Som grund till intervjuguiden och som teoretisk utgångspunkt har Nola J. Penders Health Promotion Model (HPM) använts. Resultatet presenteras enligt frågeställningarna till studien samt kategorierna i HPM. Vaccinförespråkarna var mera positivt inställda till MPR-vaccinet, hade mindre oro för biverkningar men en större rädsla för mässling, påssjuka och röda hund. Vaccinkritikerna hade en större oro för biverkningar, hade brist på förtroende mot myndigheter samt en uppfattning om att mässling, påssjuka och röda hund inte i dagsläget är speciellt farliga. Alla vårdnadshavare hade aktivt sökt information om MPR-vaccinet och dess effekter. Endast en vårdnadshavarna var positivt inställd till flockimmuniteten och ansåg det vara en bidragande faktor för att låta vaccinera sina barn. Slutligen bör det nämnas att alla vårdnadshavare tagit beslutet på egen hand och agerat efter vad de ansåg vara bäst för sina barn, de upplevde alla att de var nöjda med sina beslut.
Utvecklingsarbete:
Syftet med detta utvecklingsarbete är att förbättra hälsovårdaren på barnrådgivningnens beredskap att våga bemöta vårdnadshavare i olika vaccinationsfrågor. Detta utvecklingsarbete är en fortsättning på vårt examensarbete "Vårdnadshavares attityder gentemot MPR-vaccinet och flockimmunitet". För att uppnå syftet har diskussionsunderlaget "Våga prata vaccin" skapats. Diskussionsunderlaget finns tillgängligt på svenska. Diskussionsunderlaget "Våga prata vaccin" innehåller kommunikationstips, en översikt av samtalsmetoden motiverande samtal med tillhörande praktiska exempel samt konkret information om vaccinationer. Diskussionsunderlaget riktas till hälsovårdaren på barnrådgivningen och berör barnvaccinationerna som ingår i det finländska nationella vaccinationsprogrammet. Med diskussionsunderlaget vill vi uppmuntra hälsovårdaren att våga ta upp vaccinationsfrågan och bemöta vårdnadshavare jämlikt.
Bachelor´s thesis:
The purpose of the study is to find out which factors affect guardians' choices to whether to vaccinate their children or to refrain from MMR-vaccine and to research attitudes towards herd immunity. Questions at issue are Which factors affect the decision to vaccinate with MMR-vaccine? What kind of responsibility do guardians experience they have to maintain herd immunity? Collecting of data was done through interviews. In the study four informants were interviewed, half of them vaccine supporters and the other half vaccine critics. This has given a more versatile view of the factors affecting the decision about MMR-vaccine and also given a broader insight about the attitudes towards herd immunity. The interview guide and the theoretical framework is based on Nola J. Pender's Health Promotion Model. The results are presented according to the questions at issue and the categories of HPM. The vaccine supporters had a more positive attitude towards the MMR-vaccine, were less concerned about the side effects but had a bigger fear of measles, mumps and rubella. The vaccine critics were more worried about the side effects, had a lack of faith in authorities and also had the belief that measles, mumps and rubella aren't that harmful diseases nowadays. All guardians had actively searched information about the MMRvaccine and its effects. Only one of the guardians had a positive attitude against herd immunity and considered it to be a contributory factor to vaccinate their children. At last it should be mentioned that all guardians made the decision on their own based on what they believed would be best for their children. They were all satisfied with their decisions.
Development project:
The purpose of this development project is to improve the public health care nurse's preparedness to respond to parents concerns regarding vaccines. To achieve the purpose the "Dare to talk about vaccine" discussion paper was created. This development project is a sequel to our bachelor's thesis "Guardians attitudes towards the MMR-vaccine and herd immunity". The discussion paper is available in Swedish. The discussion paper "Dare to talk about vaccine" contains communication tips, a summary of the conversation method motivational interviewing with examples and some practical information about vaccines. The discussion paper was created for the public health care nurse stationed at children's health care and concerns the childhood vaccinations included in the Finnish national vaccination program. With this discussion paper we want to encourage the public health care nurse to dare to respond to parents concerns regarding vaccines and to respond to parents equally.
Kokoelmat