Unga och ensamhet. En forskningsöversikt om ensamhet och en kartläggning av verksamhet för unga i Helsingfors
Blomqvist, Linn; Grandell, Tove; Skogvik, Ida-Marie (2019)
---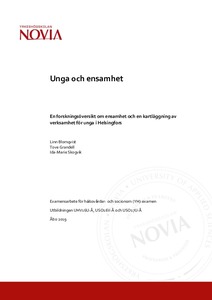 Blomqvist, Linn
Grandell, Tove
Skogvik, Ida-Marie
2019
All rights reserved. This publication is copyrighted. You may download, display and print it for Your own personal use. Commercial use is prohibited.
Julkaisun pysyvä osoite on
http://urn.fi/URN:NBN:fi:amk-2019052211264
Tiivistelmä
Syftet med detta examensarbete är att sammanställa en forskningsöversikt kring ensamhet och dess effekter på ungas hälsa samt att kartlägga existerande verksamhetsformer och projekt med syftet att motverka ensamhet bland svenskspråkiga i Helsingfors. Arbetet behandlar ensamhet bland unga i åldern 13–17 år.
De forskningsfrågor som arbetet strävar efter att besvara är 1) Hurudana forskningsresultat finns det kring ensamhet och unga? och 2) Hurudan verksamhet finns det för unga utgående från forskningsresultaten och med beaktande av vårt avgränsningsområde?
Examensarbetet består av en forskningsöversikt som sammanställer tidigare forskningar kring ämnet ensamhet bland unga. Resultatet presenteras med en materialbaserad innehållsanalys. Med forskningsöversikten som utgångspunkt görs en kartläggning av verksamheter på svenska för unga i Helsingfors.
Resultaten från forskningsöversikten visar att ensamhet påverkar unga både på individnivå och inom de ungas sociala nätverk. På individnivå behandlas den ungas hälsa, olika riskfaktorer för ensamhet samt olika faktorer som är kopplade till personlighet och identitet. Till det sociala nätverket hör den ungas familj, vänner och skola. Kartläggningen visar att det redan nu finns mycket verksamhetsformer och projekt som förebygger ensamhet i anknytning till individen och det sociala nätverket. Det kan ändå konstateras att det finns utvecklingsbehov inom vissa verksamhetsformer.
The aim of this bachelor's thesis is to create a research review about the topic loneliness and its effect on adolescents' health. It also contains an investigation of existing types of activities and projects aiming to counteract the loneliness among Swedish speaking adolescents in Helsinki. The bachelor's thesis focuses on loneliness among adolescents aged 13 – 17.
The research questions in this report are 1) What kind of research results are there about loneliness and adolescents? And 2) What types of activities are there for adolescents, considering the research results and definition area of this thesis?
The thesis is a research review that compiles previous research about the topic adolescent loneliness. The results are presented with material-based content analysis. The research review will be the starting point when mapping the different activities available for Swedish-speaking adolescents in Helsinki.
The findings from the research review show that loneliness affects the adolescent both on an individual level and on the adolescent's social network. The individual level covers health, different risk factors of loneliness and factors linked to personality and identity. The social network includes family, friends and school of the adolescent. Another finding of the study is that many types of activities and projects that counteract loneliness connected to the individual and the social network already exist. There are, however, needs for further development within some areas.
Kokoelmat