"Vad har hjälpt mig att klara av det här?" : en studie för att beskriva upplevelser vid ett psykiskt trauma och återhämtningsprocessen
Kulmala, Timo-Pekka (2019)
---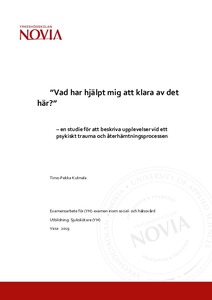 2019
All rights reserved. This publication is copyrighted. You may download, display and print it for Your own personal use. Commercial use is prohibited.
Julkaisun pysyvä osoite on
http://urn.fi/URN:NBN:fi:amk-2019052211226
Tiivistelmä
Examensarbetet handlar om människor som genomgått och återhämtat sig från ett psykiskt trauma. Syftet med examensarbetet är att beskriva hur man upplever ett psykiskt trauma och hur man återhämtar sig efter en traumatisk händelse.
Studien är en kvalitativ studie som utfördes deduktivt. Som datainsamlingsmetod användes intervjuer och intervjuerna analyserades med hjälp av innehållsanalys. Som bakgrundsteori användes Merle Mishels teori om osäkerhet. Resultatet jämfördes med bakgrundsteorin och med andra teorier och studier inom ämnesområdet. För studien intervjuades tre informanter, som alla hade upplevt ett psykiskt trauma som förändrat deras liv.
Av resultatet framgick att det är många saker som påverkar hur man upplever och återhämtar sig från ett psykiskt trauma. Psykiskt trauma för med sig osäkerhet om framtiden, funktionsnedsättning, psykiskt illamående och negativa känsloupplevelser. Vid återhämtningsprocessen upplevde man att stöd från omgivningen och även andligt stöd var väldigt viktigt för att man ska kunna hantera stressen och osäkerheten som psykiska trauman förde med sig. Också bearbetning av psykiska trauman och känslorna angående trauman var i en stor roll. Det framgick också att förhållningsätt och tro avgjorde mycket hur informanterna bemötte psykiska trauman och de utmaningar som trauman förde med sig.
The thesis is about people who have undergone and recovered from a psychological trauma. The purpose of the thesis work is to describe experiences during a psychological trauma and the recovery process after a traumatic event.
The study is a qualitive study and it was conducted deductively. Interviews has been used as a collection method and via content analysis the material was analyzed. In the study was used as a background theory Merle Mishel`s uncertainty in illness theory. The result of the study were compared with background theory and with other theories and studies from the subject area. Three informants were interviewed for the study, all of whom had experienced a psychological trauma that changed their lives.
The result showed that there are many things that affect how one experiences and recovers from a psychological trauma. Psychological trauma entails uncertainty about the future, disability, mental illness and negative emotional experiences. During the recovery process, it was felt that support from the environment and even spiritual support were very important in order to be able to handle the stress and uncertainty that mental trauma brought with it. Also the processing of psychological trauma and the feelings concerning it were of great importance. It also emerged that attitude and faith largely determined how the informants responded to psychological problems and the challenges that the trauma brought with them.
Kokoelmat