Utveckling av verktyg för kalkylering av en ny produkts ledtid
Snickars, Tobias (2019)
---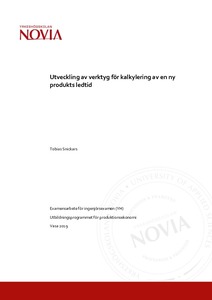 2019
All rights reserved. This publication is copyrighted. You may download, display and print it for Your own personal use. Commercial use is prohibited.
Julkaisun pysyvä osoite on
http://urn.fi/URN:NBN:fi:amk-2019052211225
Tiivistelmä
Detta examensarbete har gjorts enligt uppdrag av ABB Distribution Solutions vid avdelningen GA - team. ABB är ett världsledande företag inom el- och automationsbranschen som är verksamt i över 100 länder och har en bas vid Strömberg park i Vasa.
På avdelningen tillverkas styrskåp med diverse interna komponenter vars uppgift är att bygga upp smartare elnät. Av dessa är en betydande del mindre projekt som anpassas efter kundens behov, vilket betyder att det därför skapas många nya modeller. Dessa modeller medför ett problem i och med att de komplicerar kapacitetsplaneringen eftersom ledtiden mellan de olika modellerna kan skilja sig markant i produktionen. Därför finns ett behov av ett verktyg som kan användas för att underlätta kapacitetsplaneringen genom att räkna ut ledtiden för dessa nya modeller.
Syftet var därför att skapa ett sådant verktyg som med hjälp av statistisk analys gör en kalkyl av en produkts ledtid innan den är känd. För att genomföra detta kommer en tillförlitlig variabel för produkternas ledtid att letas fram i ritningarna för styrskåpen. Med hjälp av en arbetsmätning för att mäta ledtiden för olika modeller och denna variabel, kommer verktyget som utvecklas i Microsoft Excel, att använda sig av regressionsanalys för att kalkylera ut ledtiden för nya produkter. Verktyget kommer också att samla in nya data för att förbättra framtida prognoser för ledtid.
Resultatet utgörs av analys av de observationer som erhölls i och med arbetsmätningen samt verktyget själv och en analys av det och dess möjlighet till vidare utveckling.
This Bachelor's thesis has been commissioned by ABB Distribution Solutions at the department GA (Grid Automation) – team. ABB is a world-leading corporation in the electrification and industrial automation branch and operates in more than 100 countries and have departments situated in Vaasa, Finland.
In the department control cabinets with various internal components whose purpose is to build a smarter power distribution grid. Out of these a considerable share are part of smaller projects customised for the customer's needs which leads to an ever growing product pool. With this comes the problem of the new products complicating the capacity planning since their lead time can differ significantly between the different models. Thus it exists a need for a tool which can be used while planning capacity by calculating the lead time for these new models.
Therefore the purpose of this thesis is to create such a tool using statistical analysis to calculate lead time before it is known by measurement. To accomplish this a reliable variable for the lead time of the cabinets will be determined by studying the drawings. By performing work measurement for different models, lead time will be determined and comparing this to the other variable the tool, which will be developed in Microsoft Excel, will use regression analysis to calculate the lead time for new products. It will also gather new data to improve future calculations.
The result consists of an analysis of the observations gathered in the work measurement as well as the tool itself and an analysis of it and its possibilities for further development.
Kokoelmat