Søvnens rolle i sykepleieryrket : En litteraturstudie av sykepleieres søvn og implikasjonene av søvnmangel for arbeidsevnen og pasientsikkerheten
Isaksen, Tommy (2019)
---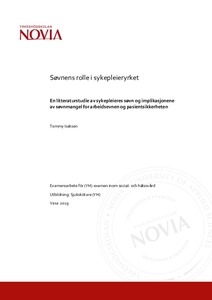 2019
All rights reserved. This publication is copyrighted. You may download, display and print it for Your own personal use. Commercial use is prohibited.
Julkaisun pysyvä osoite on
http://urn.fi/URN:NBN:fi:amk-2019052411709
Tiivistelmä
Hensikten med denne oppgaven er å kaste lys over sykepleieres søvn, og mer spesifikt forsøke å avdekke om søvnmengden påvirker sykepleiernes arbeidsevne og forekomsten av negative hendelser. For å svare på oppgavens problemstilling har jeg foretatt en litteraturstudie som på ulike måter belyser denne problematikken. De tolv vitenskapelige studiene som har blitt analysert er av kvantitativ karakter.
Teorikapittelet fungerer som en innledning til temaet søvn, og tar derfor for seg blant annet søvnens ulike faser samt hvilke funksjoner søvnen fyller for mennesket. Konsekvensene av søvnmangel drøftes også. For å knytte dette til sykepleierens praktiske arbeid, og spesielt pasientsikkerheten, trekkes relevant forskning om søvnmangel og skiftarbeid fram da skiftarbeid er kjent for å utgjør en risikofaktor når det gjelder sannsynligheten for uhell og lignende.
Resultatene viser at de fleste sykepleiere ikke sover tilstrekkelig, og at dette i mange fall påvirker arbeidsevnen og pasientsikkerheten i negativ forstand. Dette resulterer gjerne i tretthet, både på jobb og på fritiden. Flere av studiene viser dessuten at mengden feil som begås øker desto mindre uthvilte sykepleierne er, hvilket bekrefter hvor viktig det er at sykepleierne sover nok og får tilstrekkelig med hvile mellom vaktene. Studier tyder også på at lange vakter og skiftarbeid generelt, spesielt hvor det inngår nattevakter, er faktorer som påvirker søvnen negativt og som kan øke sannsynligheten for at medisinske feil oppstår.
Syftet med denna uppgift är att kasta mera ljus över sjukskötares sömn, och mera specifikt att försöka avtäcka om sömnmängden påverkar sjukskötarnas arbetsförmåga och förekomsten av negativa händelser. För att svara på detta har en litteraturstudie gjorts som på olika sätt belyser denna problematik. De tolv vetenskapliga studierna som har analyserats är av kvantitativ karaktär.
Teorikapitlet fungerar som en inledning till temat sömn och behandlar därför aspekt som sömnens olika faser samt vilka funktioner sömnen fyller för människan. Följderna av sömnbrist diskuteras också. För att koppla detta till sjukskötarens praktiska arbete, och speciellt patientsäkerheten, dras relevant forskning om sömnbrist och skiftarbete fram eftersom skiftarbete är känd för att vara en riskfaktor när det gäller sannolikheten för olyckor och dylikt.
Resultaten visar att de flesta sjukskötare inte sover tillräckligt, och att detta i många fall påverkar arbetsförmågan och patientsäkerheten i negativ bemärkelse. Detta medför gärna trötthet, både på jobb och på fritiden. Flera studier visar dessutom att mängden fel som begås ökar desto mindre utvilade sjukskötarna är, vilket bekräftar hur viktigt det är att sjukskötarna sover tillräckligt och får tillräckligt med vila mellan skiften. Studier tyder även på att långa skift och skiftarbete generellt, speciellt där det ingår nattarbete, är faktorer som påverkar sömnen negativt och som kan öka sannolikheten för att medicinska fel uppkommer.
The purpose of this thesis is to shed light over the sleeping habits of nurses and more specifically to try to uncover if sleep influences the nurse's work ability as well as the prevalence of adverse events such as medical error. In order to answer this, I have conducted a literature review that highlights this topic from different aspects. The twelve studies that have been analyzed are quantitative in nature.
The background chapter gives an introduction to the topic of sleep itself and covers matters such as the different sleep stages and the different functions that sleep serve. Furthermore, the consequences of sleep deprivation are described. In order to tie this to the practical work of the nursing profession and to patient safety, relevant research on sleep deprivation and shift work is discussed as shift work is a known risk factor when it comes to the probability of accidents and the like.
The findings of this study suggest that most nurses do not receive a sufficient amount of sleep and that this indeed does affect both work ability and patient safety in a negative way. A common consequence of this is tiredness, both at work and off work. Furthermore, several of the scientific studies examined also show that the amount of errors increases the less rested the nurses are, which gives proof of the significance of sufficient sleep and rest between shifts. Moreover, studies also suggest that long shifts and shift work in general, especially those involving night shifts, are factors that affect sleep negatively and can increase the likelihood of medical errors.
Kokoelmat