Att skapa en filmatisk värld : en processbeskrivning hur den filmatiska världen kom till i filmen ID
Sjöblom, Robert (2019)
---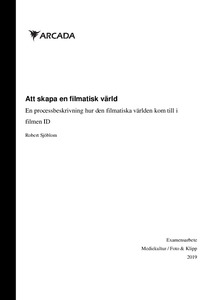 2019
All rights reserved. This publication is copyrighted. You may download, display and print it for Your own personal use. Commercial use is prohibited.
Julkaisun pysyvä osoite on
http://urn.fi/URN:NBN:fi:amk-2019052812491
Tiivistelmä
I det här arbetet gör jag en djupdykning i hur den filmatiska världen kom till i science fiction kortfilmen ID. Syftet med uppsatsen är att öka kunskapen i begreppet filmatisk värld och att förbättra mitt yrkeskunnande som filmfotograf. Jag belyser den filmatiska världens existens och betydelse genom teorin om människan och rummet, ett filmatiskt rum från arkitekturens synvinkel, matematiska rum, det magiska i filmklippet, tankar om en fiktiv värld inom fantasifiktion och den fjärde dimensionen i filmen, samt filmens rumtid. I arbetet ser jag på rummet ur ett fysiskt, abstrakt, filosofiskt och matematiskt perspektiv, som tillsammans med tiden beskriver den filmatiska världens uppbyggnad. Den vanliga världen beskrivs som ett fyrdimensionellt rum-tid-kontinuum och den filmatiska världen består av samma fyra dimensioner. Med en filmatisk värld syftar jag på filmens fiktiva värld, som byggs upp för att stöda berättelsen. En fiktiv värld består av fiktiva karaktärer, som har sina egna målsättningar i livet och som upplever sina unika händelser. Händelserna kan placera sig i hela komplexa universum, men också i abstrakta och uttryckslösa rum. Arbetet avgränsas till enbart filmen ID:s visuella och tekniska arbetsprocess. Genom en kvalitativ fallstudie deltar jag i kortfilmens produktion och samlar information. Jag reflekterar över min egen arbetsprocess som inkluderar visuell planering, inspelning, klipp, skapande av visuella effekter och färgsättning. I min processbeskrivning delar jag filmen ID i tre delar: det mörka rummet, det vita rummet och barndomsminnet. Jag analyserar rummen från tre olika synpunkter: den filmatiska världen i filmen, mina egna tankar om arbetsprocessen och slutresultatet. Resultat visar att inspelningsplatserna och resurserna har en stor betydelse för filmens värld. De visuella effekterna i filmen ID gör världen till en icke ordinär verklighet. Med hjälp av de tekniska resurserna kan rum och tid förvrängas, formas och behandlas på olika sätt för att skapa en egen filmatisk värld.
In this study, I take a deep dive in how the cinematic world has been created for the science fiction short film ID. The purpose of this study is to make the term cinematic world known better and to improve my qualification as a director of photography. I illuminate the existence and meaning of the cinematic world through theories of human and space, a filmic space from an architectural point of view, mathematical spaces, the magic of movie editing, thoughts of a fictional world in fantasy fiction and the fourth dimension in film, as well as the filmic spacetime. In my study, I see space from a physical, abstract, philosophical and mathematical perspective that together with time describes the construction of the cinematic world. The regular world is described to be as a four-dimensional space-time-continuum and the cinematic world consists of the same four dimensions. A cinematic world is to me, a fictional world of a movie that is build up to support the story. A fictional world consists of fictional characters who has their own goals in their lives and experience their own unique events. Events can take place in an entire complex universe, but also in abstract and vacant space. The study is limited only on the visual and technical process of the movie ID. Through a qualitative case study, I take part in a short film production and collect information. I reflect over my own process, which includes visual planning, filming, editing, creation of visual effects and color grading. I split the short film ID to three parts in my process description: the dark space, the white space and the childhood memory. I analyze the spaces from three different aspects: the cinematic world in the movie, my own thoughts about the process and the result. The result shows that the shooting location and resources has a significant importance for the movie world. The visual effects in the movie ID, makes the world to a no ordinary reality. With the technical resources you can distort, shape and process space and time in various manners to create an own cinematic world.
Kokoelmat