Using brainwaves as a controller in games : how games can use Senzeband
Pukkila, Jarkko (2019)
---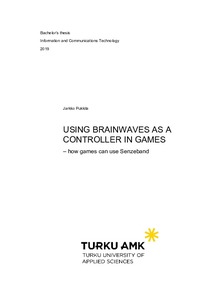 2019
All rights reserved. This publication is copyrighted. You may download, display and print it for Your own personal use. Commercial use is prohibited.
Tiivistelmä
Senzeband is a neuroband, an electroencephalogram (EEG) measuring device which measures different kinds of brainwaves. With these measured values, Senzeband can be used for many kinds of applications, for example, as a controller for games, which has been the basis of this study.

This thesis examines how the different values can be used as a controller in games. The main objectives were: (a) to find out what the best practice is when using a brainwave measurement device as a controller in games; and (b) to acquire an understanding of user experience when using brainwaves as a game controller. For this purpose two different games were used: a memory card game and the Paavo Nurmi Games running game. For the first game, the objective was to study if it is possible to use different brainwaves as a controller in games and for the second game, the objective was to investigate the possibilities for an entertainment-oriented game and the entertainment value, the "fun factor", in such a game. The memory card game was developed by the researcher for the purpose of this study, while the Paavo Nurmi running game is a game which was developed in Turku Game Lab for Microsoft Kinect and was adapted for use in this study. This game was modified to use a brainwave measurement device, more precisely the controller method was changed from camera-based to Senzeband-based.

This study made use of development journaling as a discussion aid for explaining the best practices for programming with brainwave measurement controllers. The study also observed gameplay during and interviewed several users after playing the Paavo Nurmi game to determine what their experience with brainwave controllers was like.

The result of this study was that it is possible to use Senzeband as a controller, but it is difficult to use all the possible measurements and, therefore, the recommendation is to use only the beta wave readings for game control. The study also shows that brainwave controllers provide a fun factor and can also be used in a game that is developed for entertainment purposes.
Kokoelmat