From the inside, out : En praktisk studie om hur man med färger i smink visar sin personlighet
Lähde, Sofia (2019)
---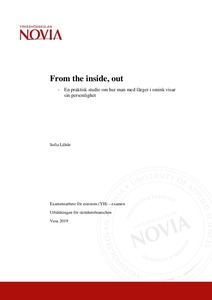 2019
All rights reserved. This publication is copyrighted. You may download, display and print it for Your own personal use. Commercial use is prohibited.
Julkaisun pysyvä osoite on
http://urn.fi/URN:NBN:fi:amk-2019052913334
Tiivistelmä
Syftet med denna studie är att med hjälp av färger ta fram en människas personlighet i en sminkning för att upplysa branschmänniskor och allmänheten om att en sminkning kan vara mer än bara ytligt förskönande. Respondenten vill även lyfta fram personer med intellektuell funktionsnedsättning, eftersom det är en målgrupp som behöver uppmärksammas för att nå jämlikhet.
Examensarbetet har utförts med hjälp av datainsamlingsmetoderna diskussion, för att få reda på modellernas personlighet, samt smink och fotografering. Dataanlaysmetoden som använts är bildanalys. Respondenten använder sig av modeller från Kvadratens serviceenhet som hör till Kårkulla samkommun, en organisation som erbjuder service för personer med utvecklingsstörning eller annan funktionsnedsättning.
Enligt teorin och tidigare forskning i denna studie har färgerna betydelse för människan. De kan påverka människans sinnesstämning och väcka känslor. Vilken betydelse en viss färg har kan dock variera på människans personliga erfarenheter till den specifika färgen. Resultatet av bildanalysen visar att man till viss mån kan ta fram en människas personlighet med färger i en sminkning. Eftersom det finns andra faktorer som påverkar uppfattningen om personligheten, som till exempel ansiktsuttryck och kroppsspråk, kan man inte med säkerhet fastställa personligheten enbart med färger i sminkningen.
The purpose of this thesis is to determine a person's personality through the use of colors in makeup, to enlighten industry professionals and the public that makeup can be more than a shallow embellishment. The writer of this thesis also wants to highlight people with an intellectual disability, because the writer deems this target group in need of attention, to
ultimately be seen as equal in society.
The thesis is carried out by using discussion, to get to know the model's personalities, as well as makeup and photography. The data analysis method that is used is picture analysis. The writer of this thesis uses models from Kvadratens service unit that operates under Kårkulla samkommun, an organization that provides services for people with intellectual, or other, disabilities.
According to the theory and earlier research in this thesis, colors do have a meaning for people. They can affect a person's mood and stir emotions. Which meaning a specific color has depends on the person's personal experiences of the specific color. The result of this thesis show that you can to a certain degree show a person's personality with colors in makeup. Since there are other factors that affect the perception of the personality, for example facial expressions and body language, one cannot with certainty determine the personality with colors in makeup alone.
Kokoelmat