Timed Delay Data Management in Salesforce
O Ceallacháin, Gearóid (2019)
---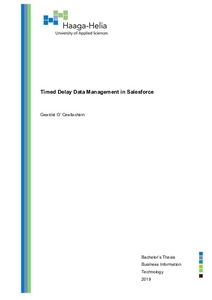 2019
All rights reserved. This publication is copyrighted. You may download, display and print it for Your own personal use. Commercial use is prohibited.
Tiivistelmä
This Bachelor's thesis in Business and Information Technology focuses on PaaS (Platform-as-a-service). In more specific, Time delay data management in Salesforce from a technical-economical point of view. In the context of PaaS, the aim of this study is to explore if the governor limits in Salesforce can be broken for the benefit of the users. Or could Time Delay Data management provide even more efficient solution for this purpose. The research question in this thesis is: is it possible to bend or break the governor limits in Salesforce to be more efficient? It is answered by analysing the following aspects.
I. Can one use batches and triggers to break or bend the governor limits?
II. Can one use asynchronous and synchronous methods, including batches and triggers, to create the illusion of getting more information from the governor limits?
This development case for a company 'x' was chosen based on a questionnaire (sent to 30 employees), followed by discussions with the same employees. Based on the answers, it was identified how could they be more efficient in their working methods, for example, by saving time in testing and debugging in Salesforce. Following that, it was tested if the governor limits can be broken by using synchronous and asynchronous commands in conjunction with batches and triggers.
As a result, it is discovered that the governor limits are means to keep order. Moreover, they are means to keep clients safe with the Salesforce product. As a self-guiding rail to near perfect code, governor limits maintain undisturbed service every time Salesforce is updated. As a conclusion, instead of trying to break the governor limit in Salesforce, it is more efficient to create the illusion of breaking the governor limits by using asynchronous methods.
Kokoelmat