Kvalitet och Miljöledning i Företag
Holmblad, Birgitte; Holmblad, Birgitte (2010)
---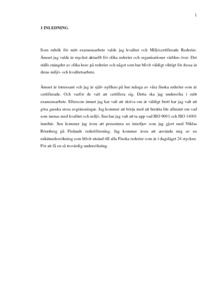 Holmblad, Birgitte
Holmblad, Birgitte
Keski-Pohjanmaan ammattikorkeakoulu
2010
All rights reserved
Julkaisun pysyvä osoite on
http://urn.fi/URN:NBN:fi:amk-2010071912613
Tiivistelmä
Kvalitet och miljö är tidens melodi och det blir allt viktigare för företag att certifiera sig och erhålla ISO 9001 och ISO 14001 för att vara ett mera konkurenskraftigt företag. Många företag väljer att certifiera sitt företag just av denna anledning, men även för att framträda som ett företag med god kvalitet och miljötänkande.
Jag valde rubriken kvalitet och miljöledning i företag och i arbetet valde jag att koncentrera mig att se närmare på varför företag väljer att certifiera sig. I teoridelen kommer det fram vad kvalitet och miljö betyder och hur man bygger upp ett kvalitet och miljöarbete på ett företag.
I examensarbetet ingick en kvantitativ studie, den gjordes i form av en dokumentanalys.
Målsättningen med undersökningen var att få fram varför företag väljer att certifiera sig. I studien ingick 30 artiklar från tre stycken facktidningar. Resultatet visar att tidningarna var intresserade av att skriva om ämnet ISO 9001 och ISO 14001. Det fanns både positivt och negativt i artiklarna på frågan om företag borde certifiera sig. Men övervägande positiva saker kom fram. Mitt förslag till företag som funderar på en certifiering är att ha en bra ledning som drar detta projekt. Och att man får med sig medarbetarna i företaget då når man en certifiering och ett fungerande system.
Quality and Environment is the future, and it is increasingly important for companies to certify themselves and obtain ISO 9001 and ISO 14001 to be one more very good company. Many companies choose to certify their companies on the same ground. But even to appear as a company with good quality and environmental awareness.
I chose the title Quality and environmental management in enterprises and in the work I have concentrated on looking further into why firms choose to certify itself. The theory part will be presented with quality and environmental means and how to build a quality and environmental work at a company.
The thesis was a quantitative study, it was made in the form of a document analysis.
The aim of this study was to obtain why companies choose to certify itself. The study included 30 articles from three pieces of trade magazines. The result shows that the press was interested in writing about the subject ISO 9001 and ISO 14001. There were both positive and negative articles in the issue of the company should certify themselves. But overwhelmingly positive things. My suggestion to companies that are considering a certification is to have a good line that draws this project. And that you get with the employees of the company. When you reach a certification and a functioning system.
Kokoelmat