Faktorer som påverkar medlemskapet i Borgå Företagare rf.
Sebastian, Ekblom (2010)
---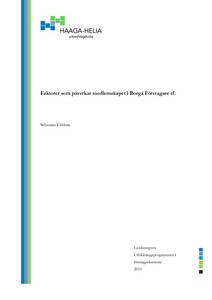 HAAGA-HELIA ammattikorkeakoulu
2010
All rights reserved
Julkaisun pysyvä osoite on
http://urn.fi/URN:NBN:fi:amk-2010091613059
Tiivistelmä
Lärdomsprovet som var ett uppdrag av Borgå Företagare hade som främsta syfte att undersöka vad det beror på att man skrivit ut sig ur föreningen under åren 2008 och 2009. Eftersom man ville skapa mera bredd valde man också att undersöka varför de nya medlemmarna har kommit med under samma tid.
Den teoretiska referensramen byggde på litteratur om tjänster och hur man mäter kvali-teten på tjänster. Förutom detta användes litteratur som handlade om kundrelationer, hur de uppkommer och avbryts.
Undersökningen gjordes med hjälp av en webbenkät som skickades ut till alla de som skrivit ut sig eller kommit med i Borgå Företagare under åren 2008-2009 och vars e-postadress var känd. Man använde sig av två olika frågeformulär, beroende på om man hade skrivit ut sig eller om man var ny medlem. Undersökningen var kvantitativ och resultaten av enkäterna analyserades med hjälp av figurer och tabeller.
Resultaten av undersökningen visade att de nya medlemmarna i stora drag är nöjda med vad Borgå Företagare erbjuder, seminarier är någonting man önskar sig mera av. Ge-nom dem skapar man nya kontakter och nätverk med andra företagare, som är en av de största orsakerna till att man blivit medlem i föreningen. I sin tur var de som skrivit ut sig missnöjda med att förväntningarna inte uppfylldes och medlemsavgiften var en av orsakerna varför man skrev ut sig.
Då man ser på resultaten bör man ta i beaktande att antalet som svarade på enkäten var väldigt låg, sammanlagt skickades det ut 420 enkäter, till såväl nya som före detta med-lemmar och endast 53 stycken svarade, svarsprocenten förblev 12,6%.
En rekommendation på basen av resultaten är att man i fortsättningen erbjuder med-lemmarna olika typer av seminarier de önskar sig. Medlemsavgiften är någonting en enskild lokalförening tyvärr inte kan påverka eftersom medlemsavgiften är den samma runtom i landet.
The thesis was made as an assignment for Porvoon Yrittäjät, a local association for entre-preneurs, and the objective was to find out why some members decided to leave the associa-tion during the years 2008 and 2009. To obtain detailed information on the subject, the study also explores why new members decided to join Porvoon Yrittäjät during the same time period.
The theoretical framework is based on literature on services and the measurement of quality. Theories on customer relations and how these start and end are also used.
The study was conducted with a web survey sent to all who had left or joined Porvoon Yrittäjät during the years 2008-2009 and whose e-mail addresses were known. Two different web questionnaires were used in the research, one for those who had left and one for those who had joined. The research methodology was quantitative and the results from the web questionnaire were analyzed by charts and tables.
The results from the study show that new members were satisfied with Porvoon
Yrittäjät although they requested more seminars to create contacts and networks with other entrepreneurs, which also clearly was one of the main reasons for joining the association. The ex-members said they had left the association because their expectations were not ful-filled and also due to the membership fee.
When looking at the results from the study one must take into account that the number of respondents was very low; 420 web questionnaires were sent to both new and old members, and of these only 53 were returned. Thus the response rate was as low as 12.6%. Still the recommendation is that the association should continue to offer its members different types of seminars as these are needed. The membership fee is something a local entrepreneurship association cannot influence because the fee is the same across the country.
Kokoelmat