Digital Cinema i Finland : Liv eller död för de små biograferna?
Bruce, Harriet (2010)
---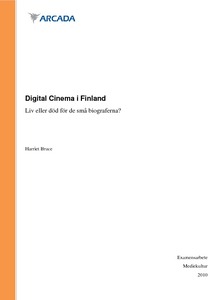 Arcada - Nylands svenska yrkeshögskola
2010
All rights reserved
Julkaisun pysyvä osoite on
http://urn.fi/URN:NBN:fi:amk-2010092213198
Tiivistelmä
Digital Cinema, användningen av digital teknologi för att distribuera och projicera filmer, förenklar distributionen av filmer avsevärt och ger biografägare möjlighet att visa en film med skarp bild och klart ljud. Digitaliseringen är dock inte en dans på rosor för alla och allra minst för de små biografer som exempelvis kan ha svårt med att finna finansiering för denna dyra investering.
Syftet med detta arbete är att beskriva hur små kommersiellt fungerande biografer ser på digitaliseringen av biografer. För att få fram olika åsikter och tankar kring denna process har jag valt med fem små biografer till detta arbete med betoning på att dessa biografer är alla i olika skeden av digitaliseringen. Några av biografägarna har redan tagit det stora steget och skaffat digitala visningsanläggningar medan andra valt att i alla fall tillsvidare visa filmer med traditionella filmprojektorer. I detta arbete tar jag reda på dessa biografägares åsikter kring biografbranschen och digitaliseringen.
Digital Cinema, the use of digital technology to distribute and project movies, simplifies the distribution of movies and gives cinema owners the possibility to project movies with sharp picture and clear sound. The digitization is not easy for everyone and especially small cinemas can found it hard to find the much needed financing for this investment.
The purpose of this thesis is to describe how commercially working cinemas look at the digitization of cinemas. To get different ideas and thoughts about this process I have chosen five small cinemas to participate in this thesis. These five cinemas are all in different stages concerning the digitization. Some of the cinema owners have already gotten digital projecting devices while others still choose to project movies with traditional film projectors. In this thesis I find out what these cinema owners have to say about the cinema trade and the digitization of cinemas.
Kokoelmat